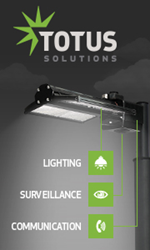 "At TOTUS we partner with the Nation's Largest System Integrators and Distributors but we are also committed to supporting veteran, minority and women owned business enterprises." said John B. Hanby, SVP Worldwide Sales TOTUS Solutions
Austin, TX (PRWEB) August 15, 2013
TOTUS Solutions, Inc., the provider of the World's first outdoor LED lighting based security platforms, is pleased to announce today an agreement with TekConnX, LLC to market TOTUS Security Platforms™ to their government, commercial and high tech customers.
"At TOTUS we partner with the Nation's Largest System Integrators and Distributors but we are also committed to supporting veteran, minority and women owned business enterprises. The GSA confirms these businesses have access to certain portions of federal contracts, set-aside to be awarded to a minority or small business owners. TekConnX is a veteran and minority owned, solutions design and service provider supporting government buyers. They are an ideal channel partner to market our technology." said John B. Hanby, SVP Worldwide Sales TOTUS Solutions.
TOTUS Technology provides a competitive advantage to channel partners with today's tightened security budgets. To prevent incidents in real-time, TOTUS Technology provides unparalleled Active Deterrence™ via event action processing. Remote or analytics-triggered lighting control allows the LED lights to be used as a real-time deterrent by flashing or alternating brightness when motion is detected, while available two-way audio and panic buttons provide real-time interaction for added deterrence. The system can even send an email or other notification to a central location when an event occurs.
TOTUS Security Platforms family includes fully integrated lighting, surveillance and communications options that feature LED lighting optimized for surveillance, a built-in 360-degree megapixel IP video camera, wireless communication abilities and multi-day media storage.
"TekConnX was founded on the basic principles of purpose, power, passion, and performance and we apply these principles to each and every customer engagement" said Kevin Williams, CEO TekConnX.
"We are a full service solutions-based business serving the US Government and commercial sectors and we provide uniquely tailored solutions that meet specific needs of our customers. That is why TOTUS Security Platforms' simple but still configurable technology combined with its energy efficiency is a "must have" physical security offering that provides the best solution to our customers" continued, Kevin Williams.
About TOTUS Solutions
TOTUS Solutions is the leading provider of outdoor lighting-based security platforms. TOTUS Security Platforms incorporate optimized LED lighting, megapixel IP surveillance, multi-day media storage, and secure wireless communications in a single solution to create unparalleled Active Deterrence™.
Energy saving TOTUS Security Platforms™ are designed to operate over conventional IP networks and leverage existing IT infrastructure such as servers, storage systems, computers, wiring and software. They can replace legacy systems or be integrated into existing ones, extending the eyes and ears of security personnel to outdoors while increasing the value of current surveillance investments.
TOTUS Security Platforms are lauded as Best Outdoor Perimeter Protection by SIA's NPS, Security's Best by ASIS Accolades and received the Top Innovative Technology Honor from Security Sales and Integration and a Platinum Government Security Award for "Best Outdoor Lighting-Based Security Platform" by Security Products magazine.
For more information, visit http://www.totus-solutions.com or contact info(at)totus-solutions(dot)com
About TekConnX
TekConnX, LLC is a Northern Virginia-based Veteran and Minority-Owned small business that connects customer needs to ideal solutions. TekConnX (pronounced "Tek-Connects") team is comprised of select strategic alliance partners who have the combined expertise and business experience that enables us to achieve more; retain the best people; respond quicker to rapid change; and remain more mission focused to achieve more with less. This vibrant team can deliver business development, project management services, and technical solutions—as promised!
For more information, visit http://www.tekconnx.com/.