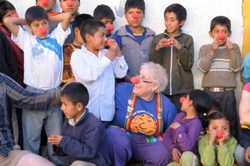 Laughter is a universal language. Everyone on the planet recognizes that a smile means friendship and cooperation. But, in many places and many cases, it is important to give people a reason to smile.
Columbus, Ohio (PRWEB) August 15, 2013
Psychologist Steve Wilson announced a grant from the Laughter Arts & Sciences Foundation, 501.c.3, (LASF) in support of the "1,000 Red Noses Project".
According to the Project Director, Debra Joy Hart, a nurse, educator, and laughter therapist, who took the project to Peru in 2011, the next stop will be Komatsu, Japan, October 10-19, 2013. "LASF is helping us do this project around the world," says Hart, "on a mission of health, happiness, and peace that often involves giving 'red noses' to adults and children of any and all cultures, races and religions to help create peace, joy, and a sense of connectedness. We facilitate uplifting & enjoyable programs that capitalize on laughter and love as universal languages and 'social glue'." She does this through her organization M.I.R.T.H.: Medicine is Relationships, Trust & Humor.
Gart Westerhout, the director of the Osugi Musical Theatre, and professor of English at Kinjo College, welcomes Hart's project, saying, "The OMT is very much looking forward to hosting Debra and helping them spread joy through laughter and red noses. I am scheduling visits to a nursing school, a hospital, and other places. Debra will also have the chance to share the love at four performances of OMT's 19th annual show, 'Treasure,' a new musical based on the traditional Japanese comic theatre, kyogen."
Wilson explains that modern science confirms what ancient wisdom taught. "The biology of laughter includes a tsunami of chemical discharges in the brain and physical changes in the body that are positive, healthful, and natural. Get all the laughter you can!"
The Foundation was created in 2003 to support efforts to get people to embrace laughter. "After all," says Wilson, "human beings are born to laugh. Even people who are born blind and deaf will laugh, although they have never seen or heard anyone doing it." There is a kind of true mirthful laughter that comes from inside of us and does not depend on jokes. Laughter is a universal language. Everyone recognizes that a smile means friendship and cooperation. But, in many places and many cases, it is important to give people a reason to smile. That's where the Foundation comes in."
In addition to providing grants to individuals to study the science of applied laughter, other projects endorsed and support by LASF are:
FUNNY-LITERACY: Using humor to help kids enjoy reading. According to Wilson, "This project encourages children to read by introducing them to the naturally attractive phenomena of humor and laughter. Children can grow in significant ways through opportunities to explore their own humor, laughter, and mirth. These topics bring variety and freshness to the classroom and the school culture, promoting eager interest, emotional resilience and self-confidence." Resources materials and support are free.
Giggle Boxes: The Giggle Box Project is a non-profit organization joyfully dedicated to promoting physical healing and the emotional well-being of kids in hospitals. Using humor to help hospitalized kids get well and stay well, Susan J. Dempsey, Executive Director, was inspired to create The Giggle Box Project during her studies to become a Certified Laughter Leader (CLL) and Certified Laughter Yoga Leader (CLYL).
FULL BELLY LAUGHTER: Because some human beings are to hungry to be laughing, we must think globally, and laugh & feed locally. This initiative promotes laughter sessions with the price of admission being a donation of food for a local food bank. Easing hunger, nourishing bodies and souls, is a necessary part of leading the way to laughter and a better world. Read Wilson's paper explaining FULL BELLY LAUGHTER.
National Humor Month (April): Established in 1976, this a month that honors those who make us laugh, professionals and amateurs, friends, neighbors, teachers, and relatives, including your Uncle Fred and your Aunt Tillie. This is the place where you can get terrific ideas about how to celebrate humor year 'round, as well as information about the ancient roots of humor and the many expressions of humor.
LASF: An internationally recognized authority on applied and therapeutic humor and laughter, psychologist Steve Wilson is president of the Laughter Arts and Sciences Foundation, established in 2003 as a non-profit charity supporting education, research, and awareness of the value of laughter to the human condition.