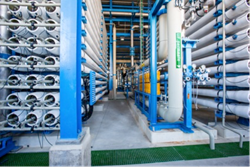 This win further manifests RWL Water's position as a significant player in the brackish water market in the USA.
Minneapolis, MN (PRWEB) August 15, 2013
RWL Water, the New York-based global water solutions provider, today announced a $4 million win by subsidiary, Aeromix. The Brackish water treatment plant will have a capacity for 500,000 gallons per day, or 2,000 cubic meters per day; the system will produce agriculture water and potable water for a new development outside the city of Rio Rancho, NM.
This win sets up RWL Water Aeromix to be a major resource for brackish water desalination plants in the United States. Two RWL Water portfolio companies, Aeromix and Nirosoft, will execute the project jointly. A significant portion of the system will be built at Nirosoft. The make-up of the raw water posed a treatment challenge, but the technical experts at RWL Water created a tailor-made solution.
CEO of Aeromix, Peter Gross remarked, "This order was the direct result of the incredible and relentless groundwork, creativity and technical expertise of our employees. This win further manifests RWL Water's position as a significant player in the brackish water market in the USA."
This contract is an illustration of the success of RWL Water Group's partnerships, the proven synergies between portfolio companies and the ability of the Group to work together cohesively to deliver water and wastewater solutions across the world.
About RWL Water Group
RWL Water Group is a water, wastewater and waste-to-energy systems integrator founded by Ronald S. Lauder. RWL Water is a rapidly growing global water solutions provider that will meet the world's increasing need for clean water through the utilization of advanced water purification and recycling technologies.
The company has designed plants for clients on all seven continents to help industrial and municipal clients treat their complex wastewater effluents in affordable, energy efficient ways. With more than 6,000 sites installed in over 70 countries around the world, RWL Water has a reputation for superb engineering and fast deployment – all at an affordable price.
The company's core operations are strategically located in the Americas, the Middle East and Europe to provide rapid response through its network of sales, service, technical and engineering professionals worldwide. For more information on RWL Water Group and Aeromix, please visit http://www.RWLwater.com.
About Aeromix
Aeromix is a global leader for drinking water and wastewater treatment with more than 4,000 systems installed in over 70 countries worldwide. The company's award-winning aeration equipment and packaged wastewater treatment plants treat wastewater at military installations, commercial buildings, and institutions internationally. With its global reach and breadth of advanced technologies, Aeromix is committed to ensuring that customers receive quality water and wastewater treatment solutions.
About Nirosoft
Headquartered in Israel, Nirosoft has an Australian subsidiary, offices in Italy and Latin America, and a network of distributors and sales representatives worldwide. The company specializes in turnkey solutions serving the industrial and municipal sectors — designing, manufacturing and supplying custom water and wastewater treatment systems to clients worldwide. Nirosoft has the know-how and expertise to design and deliver innovative, one-of-a-kind, custom water treatment solutions.
To learn more about this acquisition or to arrange an interview with Aeromix CEO Peter Gross or RWL Water Group President and CEO Henry Charrabé, please contact Samantha Kelman at +1 (212) 572-4350 or skelman(at)rwlwater(dot)com.