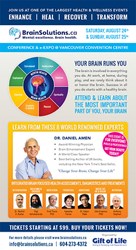 Our success rate in helping these troubled youngsters has been phenomenal.
Kelowna, British Columbia (PRWEB) August 14, 2013
NeurVana is a progressive residential treatment and wellness program for young people with self-destructive behavioral, emotional and psychological problems. Located in a spectacular British Columbia setting, the unique program combines advanced neuro-therapy technology with holistic wellness and life-coaching strategies to help teens and young adults overcome self-destructive mental health issues and behaviour problems.
"Our success rate in helping these troubled youngsters has been phenomenal," said program director David Kenney, M.Ed., who has been working with young people since the 1980s and founded NeurVana in 2011. "We're looking forward to sharing our results and techniques with attendees of the BrainSolutions conference. This event could be a landmark in connecting neurological health with behavioural and mental health, which is central to our work at NeurVana."
In contrast with talk therapy programs, special schools and rehabilitation centers where positive change can take years, the NeurVana program produces dramatic results within weeks. The innovative program achieves rapid, long-lasting results by addressing the underlying neurological imbalances that cause the cravings, depression, anxiety or rage that can trigger substance abuse, depression, eating disorders, poor sleep patterns and other self-destructive behaviors.
By removing the young person from her or his trouble-filled environment and addressing the underlying brain dysfunction, NeurVana's short-term interventional approach breaks the self-defeating cycle of misbehavior, blame and guilt. Then the treatment center's integrated program of structured activities, life coaching, neuro-therapy sessions, healthy diet and exercise enables the young person to experience the rewards of a self-regulated lifestyle, supported by sound living principles and self-awareness skills designed to maintain those positive changes for a lifetime.
"Anyone with questions about our program is welcome to visit our display table at the conference," said Kenney. The BrainSolutions Conference will be held at the Vancouver Convention Centre on Saturday, August 24th and Sunday, August 25th. More information about NeurVana's programs and treatment methods can be found on the center's website: http://www.NeurVana.ca.
About NeurVana
Founded in 2011, NeurVana is an innovative residential treatment center dedicated to helping troubled teens and young adults overcome self-destructive and self-defeating behavioral, emotional and psychological problems. The only treatment program of its kind for this at-risk population, the NeurVana approach combines the most advanced neuro-therapy technology available with a holistic residential wellness program.
This unique, non-blameful, interventional approach has produced dramatic, profound and long-lasting results with dozens of young people who had not found success with any prior treatment routines or regimens. To date, more than 100 young people have attended NeurVana's 2-to-6-week interventional treatment programs, and 100% have experienced positive, quantified neurological change. Virtually all have reported achieving most or all of their individual treatment goals, and post-treatment recurrences of presenting problems have been rare.
The NeurVana campus, at The Ranch at Gallagher's Canyon, is a serene, private 12 acres overlooking a majestic canyon and river in a region of the sunny Okanagan Valley known as the 'Hawaii of Canada'. The Ranch House is a 4,000 square foot custom designed home with ample space for youth and staff. More information about NeurVana, including testimonials from young people whose lives have been changed by the program, is available at NeurVana.ca.