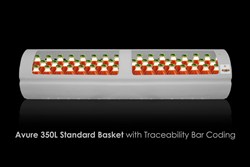 Our goal of being able to provide an affordable value driven basket design that is flexible to meet the various customer needs is on the target
Three Rivers, MI (PRWEB) August 15, 2013
All Natural Freshness is a Michigan based company taking a huge leap to provide End-to-End HPP Solutions in terms of the HPP machine, HPP operational consulting service, material handling, product tolling program, recipe validation, and more to help every food processor in the market who would like to implement HPP. ANF's goal is to help food processors to deliver a fresher, safer, healthier product with a double or triple extended shelf life. ANF announces its advanced material handling equipment including the largest and most durable HPP baskets in the industry.
"As an End-to-End HPP Solution provider, we were faced with food manufacturers' production constraints which led us to a path of discovering the best solution for material handling. Our goal of being able to provide an affordable value driven basket design that is flexible to meet the various customer needs is on target. " said Gerald Ludwick, CEO, All Natural Freshness.
With the rapid adoption of this new technology, it is also becoming rapidly apparent where specific improvements can be made when integrating an HPP machine into existing food manufacturing facilities. "By implementing HPP without the proper material handling equipment; such as High Pressure Processing Baskets, Food Grade Steel Processing Carts, and Robotics and Automation, you run the risk of missing delivery quotas, customer deadlines, and company performance objectives," states Vice President of Business Development for All Natural Freshness, Jon Jurhs.
What makes ANF's High Pressure Baskets outstanding among others in the industry is they offer the largest diameter and the most durable material and design. With over four years' experience in developing HPP Baskets, All Natural Freshness has been constantly improving its HPP Baskets. ANF has developed the industry leading diameter (14 7/8") basket to maximize vessel utilization. The inset Basket Comparison picture shows three different HPP baskets over the course of a 24 month comparison. The left basket is the Avure original, center is Avure revised, right is the All Natural Freshness Basket. The ANF HPP Basket is noticeably larger in diameter than the others. Second, notice the Avure original and Avure revised, have the same diameter with exception of revision losing ½" in interior on both recessed ends. By providing a design with limited to no recessed features the ANF Basket maintains the largest total volume available.
Further notice their openings are distorting inward and are noticeably smaller. Due to the durable materials and design, the ANF Basket basket maintains form stability and will not suffer such distortion. The Avure Original and Avure revised were both made of nylon and under consistently cold conditions, a given in the fresh food production supply chain, the material becomes brittle and therefore is subject to chipping. This limits the lifetime of the baskets and the safety of the high pressure vessel. Observe that the ANF Baskets, which have been put through rigorous use over this twenty four (24) month test, do not have chips or chunks missing. ANF Baskets remain durable and damage resistant while being subjected to the rigors of HPP production in the cold supply chain.
All Natural Freshness is committed to HPP Basket solutions that provide HPP manufacturers the highest volume and most durable baskets while also increasing productivity. "An absolute key to the best throughput possible in a food manufacturing facility, utilizing HPP, is the speed at which product can be loaded off the line into HPP Baskets and then unloaded from the HPP Basket, to be prepped for pack and ship," states CEO of All Natural Freshness, Gerald Ludwick.
All Natural Freshness developed the world's only fully, barrier-free, removable end-cap that can reduce loading by up to 33% and unloading by up to 50% and give HPP manufacturing throughput a huge boost.
Features and benefits of All Natural Freshness HPP Baskets include:

Increased throughput
Most durable and cleanable
Industry leading diameter (14 7/8") to maximize vessel utilization
Reduced labor costs associated with shelf stocking and product rotation
Permanent Bar Code for traceability to monitor processed and unprocessed baskets and production runs
All Natural Freshness has a complete line of high pressure baskets for Avure:

350L-600
215L-600
687L-300
1/2, 1/3, 1/4, 1/8, sizes available
All Natural Freshness' goal is to bring HPP to the masses by providing solutions that allow companies to have "the lowest cost per pound with the fewest touches possible." To make that possible ANF has developed a solution that offers customer specific levels of automation versus manual operation and, the key to the whole puzzle, a stackable, moveable, shipping ready buffering system.