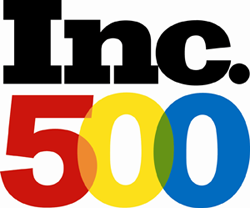 5th fastest growing company in the state of New Jersey and the 3rd fastest growing in the Philadelphia metro area.
Blackwood, NJ (PRWEB) August 28, 2013
Hawkeye Management was named to the new Inc 500 list of fastest growing privately held companies in the U.S. Hawkeye is honored to be part of such a great group of companies with so many great leaders and great people. As a company who provides small business loans and working capital to both new and established businesses, Hawkeye Management plans to continue the company's growth for several years to come. Hawkeye Management ranked as the 5th fastest growing company in the state of New Jersey and the 3rd fastest growing in the Philadelphia metro area. Additionally, Hawkeye has two offices; the corporate office is in Blackwood, NJ and the home office, where Hawkeye has a 10,000 sq. foot space is in Bentonville, AR. 90% of the company's 40+ employees are located in the Northwest Arkansas location.
The Inc 500 list is in its 32nd year. According to Inc Magazine, this was the toughest year in the 32 year history to make the list. This year the company who ranked in the 500th position grew 918% between 2009 and 2012. That's amazing growth and that is the last company to make the list. In a 32 year history that's the highest growth percentage ever for the company in the 500th position.
If you're wondering how a business is selected for the list of winners, here's the criteria: A business must have revenue figures in 2009 of at least $100,000 and in 2012 of at least $2,000,000. Additionally, the business must be privately held, US-based, for profit, and independent.
A few months ago, Hawkeye Management was also named one of the 50 fastest growing companies in the tri-state area by Smart CEO Magazine. With awards like this, it is always about people. Hawkeye can only go as far as the people take the business and those individuals certainly deserve all the praise for this great award. Hawkeye would like to thank all the great employees and all the partners, vendors, supporters, and friends who made this possible. It's the team of people who made this possible and who will continue to be the secret ingredient for continued growth.
Congratulations to all the companies who made this year's list. Inc Magazine publishes the Inc 500 list in print edition of the magazine and print a full list of 5000 fast growing companies on the website.
Hawkeye Management connects entrepreneurs and small business owners with up to $50,000-$150,000 or more in freely spendable business credit lines. Hawkeye Management understands the mechanics and realities of small business credit better than anyone. Hawkeye Management knows what works, what doesn't work, and how small businesses can get the credit it needs as quickly as possible.