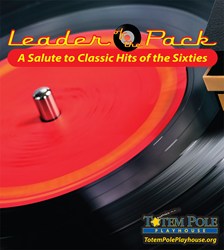 "This show, especially with the actors and production we have lined up, is going to be a fun way to wrap up the regular season for 2013." Nathan Rotz, Executive Director
Fayettevill, PA (PRWEB) August 14, 2013
You may not recognize her name, but if you know anything about rock and roll in the mid 1960s, you'll know her songs. Ellie Greenwich wrote or co-wrote many of the songs that became hit records for popular vocal groups produced by Phil Spector and his famous Wall of Sound technique and the legendary production team of Lieber and Stoller. Greenwich's rise from aspiring singer-songwriter and college student from Long Island to writing some of rock and roll's most iconic hits is portrayed in the musical Leader of the Pack, playing at Totem Pole Playhouse from August 20 through September 1.
One of the first of what would later be called jukebox musicals; Leader of the Pack was also the first Broadway musical to take a look back at the rock and roll of the 1960s beyond that of Elvis Presley. Unlike other musicals celebrating the golden age of rock and roll, Leader of the Pack is not simply a musical revue or tribute act; it is a unique, high-energy musical drama that ties Greenwich's hit songs to occasions in her life that contributed to her success. "Leader of the Pack is a special musical to both see and present because it's a wonderful trip down memory lane, full of songs that make you want to get out of your seat and dance," said Ray Ficca, artistic director at Totem Pole, "but rather than portraying the songs as traditional performances, they are integrated into the characterization and plot development of the story. Instead of a chronological review of the music, it is tied to events and people that played a part in its creation."
In addition to the part of Ellie Greenwich, played by Katharyn Calahan, a New York-based actress, singer, dancer and instructor who appeared in the long-running Broadway production of Mary Poppins, the characters include individuals who were integral to Greenwich's work. Jeff Barry, Greenwich's songwriting partner and eventual husband, is played by Tim Falter, who thrilled Totem Pole audiences with his energetic performances in Noises Off, Dames at Sea, and The Sunshine Boys. Washington DC's Kara-Tameika Watkins plays the role of Darlene Love, one of the most dynamic Wall of Sound performers produced by Phil Spector, who is the inspiration for the role of Gus Sharkey, played by seasoned actor and Gettysburg and Messiah College instructor Richard Sautter. Totem Pole's own Catherine Blaine takes on the role of Rosie in her second performance this season along with a supporting cast of six.
Of course in a musical about a songwriter and her songs that became famous, the music itself is also a star. Featuring eighteen songs recorded by the likes of Darlene Love, The Ronettes, The Crystals, The Dixie Cups, Bob B. Soxx and the Blue Jeans, Tommy James and the Shondells, Manfred Mann, and of course The Shangri-Las who took the song Leader of the Pack to the top of the charts. Along with Leader of the Pack featured songs include; Be My Baby, Do Wah Diddy Diddy, And Then He Kissed Me, Hanky Panky, Chapel of Love, Christmas (Baby, Please Come Home), I Can Hear Music, Da Doo Ron Ron, River Deep Mountain High, Wait 'Til My Bobby Gets Home, Why Do Lovers Break Each Others Hearts, (Today I Met) The Boy I'm Gonna Marry, I Wanna Love Him So Bad, Not Too Young to Get Married, What a Guy and Maybe I Know. "These are songs that transcend generations and the amount of energy in them can make people want to move as much as they did when they were released," said Nathan Rotz, executive director at the theatre. "This show, especially with the actors and production we have lined up, is going to be a fun way to wrap up the regular season for 2013," he added.
Leader of the Pack runs August 20 through September 1. Tickets start at $19.50 and as always fifty percent student and twenty-five percent group discounts are available. Tuesday through Saturday evening shows begin at 7:30 pm and Wednesday, Saturday and Sunday matinees begin at 2:30 pm. Tickets and information for this and all upcoming shows are available by calling the box office at 888-805-7056 or visiting online at Totem Pole Playhouse
About Totem Pole Playhouse
Nestled in Caledonia State Park about 13 miles west of Gettysburg and 10 miles east of Chambersburg on U.S. 30, Totem Pole Playhouse has become home to an enclave of professional performing artists including Jean Stapleton, Curtis Armstrong, Harry Groener, Henry Strozier, John Ritter, Barbara Feldon and Sandy Dennis. Totem Pole Playhouse opens its 63rd season in May of 2013. For more information about Totem Pole Playhouse, the line-up of productions for the 2013 season, or ticket information, please visit Totem Pole Playhouse.