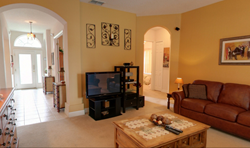 "Living in Orlando it's very common to have vacation homes in your neighborhood, which is kinda nice meeting new people and then often the homes are empty for days-weeks at a time."-Richard Grim
(PRWEB) August 14, 2013
Orlando Florida vacation homes rank number 1 in the country. Market Watch online counted down the cities whose vacation home sales have grown the most since 2011 and found Florida beat out 9 other vacation destinations in vacation home sales.
Orlando Vacation Home Sales Up 10-percent
Market Watch shows a 10-percent increase in Orlando Florida vacation homes purchases from 2011. Even with real estate interest rates rising, Florida vacation homes remain a strong economic resource. The interest in buying rental homes springs from the revenue owners make by renting them to vacationers.
A survey of new vacation home owners shows 23-percent plan to rent their homes to vacationers. The percentage of the owners planning to allow their vacation homes to be rented through property managers will come in the future. Vacation homes managed by property agents meet all state and local mandates for tax licensing and use for hospitality purposes.
Property Managers Give Guests a Luxury Experience
Families prefer rental homes to hotels in Florida because the space is better suited to large groups. The cost of a rental home is no more than hotels and Orlando Florida vacation homes rented through property managers come with full kitchens.
Florida vacation home rentals are often located in exclusive neighborhoods near theme parks. There are also homes located in gated communities within earshot of world class golf courses. Renters are treated to swimming pools, game rooms, community events and closets full of clean linens.
Fully stocked kitchens and linen closets leaves room for tourists to take home more souvenirs. The room afforded makes young and not-so-young travelers happy. Families feel comfortable and are able to relax better in a house. They save money by cooking in the full kitchen and only eating in restaurants when they choose. The fear of a hotel room not being available upon arrival is vanquished by home rental. All the rooms are available for the entire group.
The Florida economy continues to climb steadily in the second quarter of the year. Vacation home sales are stronger in Florida than the rest of the United States and tourists keep coming back. Only time will tell if vacation home sells will continue being Florida's main economic commodity.
Orlando Florida Vacation Homes Fuel the Economy
The number one ranking as top place for vacation homes not only shows a strong Florida economy, it proves property management agencies, like a+vacations, keep the homes and property in beautiful condition. Each home is thoroughly cleaned following each guest's departure. The swimming pools are serviced weekly by professionals. The lawns and gardens are tended by professional gardeners who have background checks before they are employed.