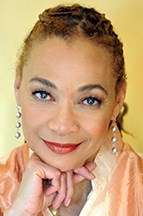 I believe that powerful choices create powerful lives
Seattle, WA (PRWEB) August 16, 2013
Cynthia James spoke with Women For One in a recent interview about her book, "What Will Set You Free". She aims to inspire women to live an active, thriving, and expansive life in an optimistic and positive way through affirmative living. Affirmative living is looking for the good in life – through positive experiences and possibilities. James says that when people learn to look for positive experiences, their perception about their entire life will expand into unlimited potential in their lives.
Cynthia James's Affirmative Living and Advanced Awareness programs equip people with the tools to change their outlook on life and become more optimistic. They help people from all walks of life overcome challenges to manifest the life they want. The Affirmative Living App provides affirmative messages daily to help users make positive changes in their lives. James's powerful, consistent coaching offers support in a holistic way to keep users centered and focused on their positive growth year round. As a result, students become more authentic and more positive in all areas of their life.
Women For One is proud to support James's mission; they are committed to improving women's issues worldwide and affirmative living is an important skill in doing so. Women For One's global community empowers women of all ages, and backgrounds, to create more positivity in their lives.