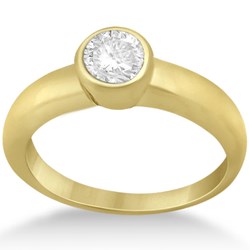 The beauty of fine jewelry is in the statement it makes, not its carat weight or intricacy.
New York, NY (PRWEB) August 21, 2013
Every year, it seems as though the fashion scene gets more complicated. Flashier colors, intricate designs, and downright impractical outfits are everywhere on the runway these days, with little respite to be found. But accessory aficionados have noticed an interesting trend in the midst of this gaudiness: fine jewelry, a realm of fashion usually dominated by diamonds, gemstones, and complex engraving, has begun to shift towards plainer styles—and leading online jewelry retailer Allurez.com is leading the way.
Harper's Bazaar noted last month in their Spring 2013 Accessories Report that many top designers have begun incorporating simplistic jewelry into their collections, displaying the plain designs on runways around the world. Celebrities like Kerry Washington and Selina Gomez have followed suit, reports InStyle, ditching gaudy baubles for engraved bracelets and chic brush-finished rose gold. According to Allurez spokesman Dennis Morgan, the trend is poised to continue through the rest of the year as public interest moves away from elaborate fine jewelry.
"In these tough economic times, wearing 'bling' isn't always a good thing," acknowledges Morgan. "Lots of people are looking for more modest jewelry right now to avoid appearing too glitzy, and this trend definitely reflects that. The difference between this and similar occurrences in the past is that now we're seeing trendsetters do the same."
As Morgan is quick to point out, plain jewelry has many attractive features besides its low profile. For one thing, it fits in neatly with the enduring popularity of stackable rings and bracelets. A fashion mainstay for the past several years, stackable jewelry is made especially easy with the simple designs of plain jewelry, since it can be paired with any of the wearer's more complex pieces.
But Morgan says that, surprisingly, the most popular minimalist jewelry isn't fashion-oriented at all. Classical plain wedding bands and engagement rings, formerly overlooked in favor of intricate modern designs, have made a surging comeback. "Today's couples are capturing the spirit of their love with more traditional wedding rings, some even without diamonds," asserts Morgan, adding that Allurez has seen sales of plain gold bridal sets and men's wedding bands increase dramatically this year, while engraved rings and sets featuring lots of gemstones have dropped in popularity.
"The beauty of fine jewelry is in the statement each piece makes," enthuses Morgan, "and these minimalistic designs speak to the sensibilities of modern people: we're less interested in impressing those around us and more concerned with wearing things that reflect our values."
Based in New York City and serving customers around the globe, Allurez Jewelers is a rising star in the field of luxury ecommerce. Allurez was recently ranked as the number one online-only jewelry retailer by TopTenReviews.com, and placed in the top three retailers overall. Their team of veteran jewelers specializes in all types of fine jewelry, including plain wedding rings for women & men, rose gold engagement rings, 14 karat gold bracelets, and much more. TopTenReviews users say that "Allurez has earned its spot among the top online jewelers" due in part to its comprehensive "Design Your Own Engagement Ring" system. Visit them online at Allurez.com.