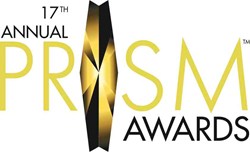 The PRISM Awards provide a unique opportunity to celebrate the positive power of entertainment and media to communicate about important issues, such as mental health and substance use.
- Giuliana Rancic
Los Angeles, CA (PRWEB) August 14, 2013
Entertainment Industries Council, Inc. (EIC) is proud to announce the premiere of the 17th annual PRISM Showcase with host Dr. Drew Pinsky and guest co-hosts Orlando Jones (Sleepy Hollow) and Giuliana Rancic (E! News, Fashion Police), September 14, 2013 on flagship airing partner FX. The PRISM Awards honor television shows, music, interactive media, DVDs, comic books, and movies that accurately depict mental health and substance use prevention, treatment and recovery. Uniquely, this year, EIC is also celebrating 30 years of the organization's encouraging authentic, engaging entertainment portrayals that heighten awareness of health and social issues.
On September 14th, as a part of National Recovery Month, the PRISM Showcase will premiere on FX at 4pm (check local listings for satellite) before entering an extended availability on additional cable networks, online digital platforms, video-on-demand, and local broadcasts.
"The PRISM Awards provide a unique opportunity to celebrate the positive power of entertainment and media to communicate about important issues, such as mental health and substance use. The nominees and award winners exemplify EIC's mission to celebrate "the ART of making a difference" by showcasing the real-to-life situations confronted by millions of Americans every year," said Giuliana Rancic.
"Powerful stories about mental health not only raise public awareness, but may also encourage people to recognize and address these issues in their personal lives. PRISM Awards aggregate these topics from media and spotlight the impact our industry has to create positive change in people's lives," said PRISM Showcase host, Dr. Drew Pinsky.
Dr. Drew, and co-hosts Giuliana Rancic, and Orlando Jones, will be joined by numerous well-known television and movie stars, including Bradley Cooper, Matthew Perry, Denzel Washington, Katy Sagal, Edie Falco, Ed O'Neill, Mark Harmon, Lucy Liu, Linda Cardellini, Michael Cudlitz, and many more as they honor films including Silver Linings Playbook (The Weinstein Company) and Flight (Paramount) and television shows Go On (NBC), Elementary (CBS), Nurse Jackie (Showtime), Parenthood (NBC), American Horror Story: Asylum (FX), Homeland (Showtime), NCIS (CBS), Chicago Fire (NBC), Southland (TNT), and Sons of Anarchy (FX). This year's PRISM Showcase is newly formatted to include some of the acceptance speeches from the April awards ceremony and viewer responses, and there will also be exclusive web content with additional categories.
"This was my second appearance on the PRISM Showcase and they promoted me to co-host. I thought I was there to tape an episode of 'Duck Dynasty' until they turned on the teleprompter," teased Orlando Jones. "The PRISM Awards encourage not only the entertainment industry, but also the public, to take a hard look at some of the most important health and social issues confronting today's society. Only by meeting these issues head-on can we strengthen social support networks, break down negative stigmas, and encourage families and communities to communicate about mental health and substance use. I am proud to be apart of the ART of making a difference."
"The new national conversation surrounding mental health is unprecedented. The 400 plus submissions scored and nominees reviewed by the Nomination Review Committee represent the foundation of this movement which, with greater commitment to authenticity in entertainment media and journalism, will shine a spotlight on these issues and better enable family and community conversation about mental health, and, hopefully, encourage individuals in need to seek help," said Brian Dyak, President and CEO of EIC.
About Entertainment Industries Council
EIC is a non-profit organization founded in 1983 by leaders within the entertainment industry to bring the power and influence of the industry to bear on communication about health and social issues. The organization is considered to be the chief pioneer of entertainment and journalism outreach and a premiere success story in the field of entertainment education. This mission relies on providing resource information to the creative community and culminates in recognition of the industry through the national television special PRISM Showcase which addresses accurate portrayals of substance use issues and mental health concerns. The organization also produces the S.E.T Awards, honoring positive and non-stereotypical portrayals of science, engineering and technology.
For a complete list of health and social issues addressed by EIC and local projects, please visit First Draft and EIC's website. EIC's web site is http://www.eiconline.org. The PRISM Awards web site is http://www.prismawards.com/.