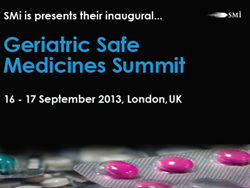 "This meeting is an opportunity to foster collaboration on research projects which include older people and to break down barriers preventing studies in this age demographic." - Nina Lee Barnett, Consultant pharmacist, Northwick Park Hospital
London, UK (PRWEB UK) 15 August 2013
Patients over the age of 65 are prescribed the majority of prescription drugs used in the UK but are significantly under-represented in clinical trials. Statistics show that although over 65's carry 60% of the disease burden they are only represented at a rate of 32% in phase I-III Clinical Trials. Why do clinical trial recruitment designs neglect this patient population?
Challenges which include co-morbidities, polypharmacy drug-drug interactions, adherence formulation challenges are just some of the difficulties faced when performing clinical trials in this population, not to mention the problems of delivery.
SMi's inaugural Geriatrics Safe Medicines Summit, taking place on the 16th-17th of September 2013 in London, will look to tackle these issues and will address Benefit-risk in this patient population and how clinical trials could be better designed to facilitate the participation of the elderly in clinical trials.
According to Nina Lee Barnett, Consultant pharmacist, Northwick Park Hospital who is speaking on day one "I am really looking forward to participating in this meeting. It is great to see a programme which includes internationally renowned contributors from a wide variety of backgrounds, all delivering sessions which support safer use of medicines in older people. This meeting is an opportunity to foster collaboration on research projects which include older people and to break down barriers preventing studies in this age demographic."
Through a novel range of case studies attendees will discover new market gaps, market strategies and focus on EMA geriatric medicines strategy and how modelling and simulation along with new patient reporting systems support clinical trials in older people.
Keynote speakers include Solange Rohou, Director Regulatory Affairs, AstraZeneca who will be presenting on: What has been done since the revision of the ICH E7 guideline? The Companies' view and Barbro Westerholm, Member of Swedish Parliament, who will speak on: Patient perspectives on healthy ageing.
Event highlights include:

Discover the benefits of performing clinical trials in older people
Identify the key challenges and considerations when conducting clinical trials in older people
Address reasons for clinical trial retention difficulties
Discuss how modelling and simulation along with new patient reporting systems support clinical trials in older people
Explore new market gaps and discover new market strategy
Focus on the EMA geriatric medicines strategy
For the full conference programme and further information please visit:
http://www.smi-online.co.uk/goto/geriatricsummit47.asp
Alternatively contact Jonathan Collins on +44 (0)20 7827 6734 or email: jcollins(at)smi-online(dot)co(dot)uk
Sponsorship opportunities are available for this event, please contact Alia Malick on +44(0) 20 7827 6168.
Contact for media-partners: Julia Rotar, jrotar(at)smi-online(dot)co(dot)uk, +44 (0) 20 7827 6088.
About SMi Group
Established since 1993, the SMi Group is a global event-production company that specializes in Business-to-Business Conferences, Workshops, Masterclasses and online Communities. We create and deliver events in the Defence, Security, Energy, Utilities, Finance and Pharmaceutical industries.
We pride ourselves on having access to the world's most forward thinking opinion leaders and visionaries, allowing us to bring our communities together to Learn, Engage, Share and Network. We hold events in over 30 major cities throughout the world including London, Paris and Singapore and to date have welcomed over 200,000 participants from 80 countries.
For more information, please visit http://www.smi-online.co.uk