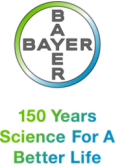 "Together with growers, consumers and other agricultural stakeholders, we are thinking ahead 150 years to ensure a better life for all of us and future generations," said Jim Blome, president and CEO, Bayer CropScience LP.
Research Triangle Park, N.C. (PRWEB) August 16, 2013
Bayer CropScience today launched its 150 Perspectives Campaign to encourage discussions around the future of agriculture among growers, consumers and others in agribusiness. The campaign is part of the 150th anniversary celebration of Bayer's mission and their commitment to Science For A Better Life.
To help propel the future of farming over the next 150 years, now through Sept. 16, the company is asking for viewpoints and fresh thinking about the future of agriculture at http://www.150perspectives.bayer.com or on Twitter with #150Perspectives. Responses will be featured at Bayer CropScience's Farm Progress Show booth (Lot 441), as well as through various social media channels. Visitors to the site can explore a gallery of responses and entries on how others view the next 150 years of agriculture.
"Bayer CropScience is committed to cultivating ideas and answers that sustain and enrich our environment and growing population," said Jim Blome, president and CEO, Bayer CropScience LP. "That is why we, together with growers, consumers and other agricultural stakeholders, are thinking ahead 150 years to ensure a better life for all of us and future generations."
Participants who submit text or photo answers to the question "How do you see the future of agriculture?" will be entered into a sweepstakes. One grand-prize winner will be awarded $500 in cash, and four additional people will win $250 to put toward brightening their futures on and off the farm. Additionally, growers can earn up to $150 in cash-equivalent Innovation Plus™ points by entering the sweepstakes, sharing entries on social media and bringing the sweepstakes confirmation email or direct mail invitation to check in at the photo booth or Innovation Plus area inside the Bayer CropScience booth at Farm Progress Show 2013.* See official rules for details.
At the 2013 Farm Progress Show, Bayer CropScience is celebrating the innovation and collaborations necessary to help growers enhance food security by increasing yields and producing healthy fuel, feed and fiber crops. Guests at the booth will explore integrated solutions to growers' toughest challenges as they walk through "One World to Grow On." This interactive exhibit identifies four pivotal decision-making times in the growing season—Plan for Success, Establish a Healthy Crop, Maintain the Potential and Successful Harvest, and provides technical information on flagship brands like Corvus® and Capreno® herbicides, Stratego® YLD fungicide and the LibertyLink® system, as well as tips for producers to maximize decisions at each stage.
For more information about Bayer's 150th anniversary, please visit http://www.150.bayer.com. For additional information and background on Bayer CropScience and its other programs, please visit http://www.bayercropscience.us/our-commitment/bayer-initiatives
*Maximum $150 in Innovation Plus points per valid Loyalty ID.
Bayer CropScience Twitter Page:
http://twitter.com/bayer4cropsus
Bayer CropScience Blog:
http://connect.bayercropscience.us
###
About Bayer CropScience
Bayer is a global enterprise with core competencies in the fields of health care, agriculture and high-tech materials. This year the company is celebrating 150 years of Bayer―consistent with its mission "Bayer: Science For A Better Life." Bayer CropScience, the subgroup of Bayer AG responsible for the agricultural business, has annual sales of EUR 8,383 million (2012) and is one of the world's leading innovative crop science companies in the areas of seeds, crop protection and non-agricultural pest control. The company offers an outstanding range of products including high value seeds, innovative crop protection solutions based on chemical and biological modes of action, as well as an extensive service backup for modern, sustainable agriculture. In the area of non-agricultural applications, Bayer CropScience has a broad portfolio of products and services to control pests from home and garden to forestry applications. The company has a global workforce of 20,800 and is represented in more than 120 countries. This and further news is available at press.bayercropscience.com.
Contact:
Bayer CropScience Media Hotline, 1-877-879-6162, or
Becca Hogan
External Communications
Bayer CropScience
Tel: (919) 549-2998
Email: becca(dot)hogan(at)bayer(dot)com
Jenell Loschke
Charleston|Orwig
Tel: (262) 957-6031
Email: jloschke(at)charlestonorwig(dot)com
USA-BCS-2013-0238
Find more information at bayercropscience.us
Forward-Looking Statements
This release may contain forward-looking statements based on current assumptions and forecasts made by Bayer Group or subgroup management. Various known and unknown risks, uncertainties and other factors could lead to material differences between the actual future results, financial situation, development or performance of the company and the estimates given here. These factors include those discussed in Bayer's public reports which are available on the Bayer website at bayer.com. The company assumes no liability whatsoever to update these forward-looking statements or to conform them to future events or developments.