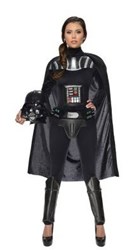 New Berlin, WI (PRWEB) August 15, 2013
It's less than 100 days away from Halloween 2013, and it's time to start thinking about what costumes to showcase for the holiday. BuyCostumes.com wants to know, "How do you Halloween?" Some embrace dressing up and go all in. Some use Halloween as a way to unleash an unexpected character trait. Some reluctantly put on a costume.
Buycostumes.com has lots of ideas (literally hundreds) for any type of costumer, and is highlighting the most popular costume themes and characters for the year.
BuyCostumes.com Exclusives for 2013
These are our newest exclusive costumes, available only through BuyCostumes.com:

Put a feminine spin on the iconic Star Wars characters Darth Vader and Boba Fett.
The Princess Bride characters - Inigo, Westley, and Fezzik, available for pre-order.
Contestants of games that are really on fire, available for pre-order.
Superheroes
o Iron Man 3
o Man of Steel
o Avengers
o Thor
o Batman
o Wolverine
o Spiderman
o Teenage Mutant Ninja Turtles
o Power Rangers
o Disney Princesses
o Sons of Anarchy
o Monsters University
o Wizard of Oz
o Skylanders Giants
o Jake and the Neverland Pirates
o Monster High
o Adventure Time
o Minecraft
o Sonic the Hedgehog
o Assassin's Creed
o Halo
o Mortal Kombat
Ninjas
Pirate Costumes
Funny Costumes
Have ideas yet? Visit BuyCostumes.com on Facebook and share how you Halloween.