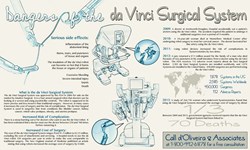 (PRWEB) August 23, 2013
On July 16, 2013, the Food and Drug Administration (FDA) sent Intuitive Surgical a warning letter about the company's failure to comply with federal rules and regulations. Specifically, the letter referenced four occasions where the company contacted healthcare providers concerning the proper use of certain da Vinci Devices, but it did not notify the FDA about these changes. According to the Code of Federal Regulations (21 CFR 806.10), "each device manufacturer or importer shall submit a written report to FDA of any correction or removal of a device initiated by such manufacturer or importer." The letter also stated that the Administration had previously informed the company about its reporting failures in 2002 and 2008 but the company did not correct its practices. In addition, the Administration determined that the company was responsible for "significant deviations" from the Current Good Manufacturing Practice (CGMP) requirements (i).
A recent article by Bloomberg reported Intuitive Surgical has seen a drop in its stock value due to the growing number of challenges the company has faced. According to the article, there has been an increase in the number of adverse events reported and many have questioned whether da Vinci Robot Devices are cost effective. These problems as well as the recent warning letter have caused the company to lose $7 billion in value and sales projections for the current year have been cut in half (ii).
Attorney Paul d'Oliveira stated, "The fact that the FDA was not notified about these da Vinci Robot corrections is troubling because doctors and patients look to the Administration for the most recent safety information. It is important that the Administration is notified about these types of changes because dangerous medical devices and components as well as inadequate instructions and warnings pose an immediate safety risk to patients. And in many cases, the FDA is in the best position to alert consumers about these risks."
People who have been injured may be able to recover for hospital bills, lost wages, pain and suffering, or other damages. d'Oliveira & Associates is looking into these cases and their lawyers are ready to assist victims in protecting their legal rights. The law firm also works with some of the more experienced da Vinci Robot lawyers, who handle lawsuits, and there are no legal fees until a settlement or award is obtained. To contact the firm call 1-800-992-6878 or submit a contact form online.
(i) FDA Warning Letter, July 16, 2013.
fda.gov/ICECI/EnforcementActions/WarningLetters/ucm363260.htm
(ii) Bloomberg, July 20, 2013.
bloomberg.com/news/2013-07-18/intuitive-surgical-declines-on-warning-letter-from-fda.html