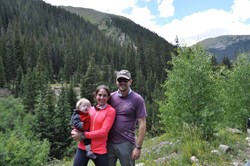 Leadville, CO (PRWEB) August 14, 2013
On August 17-18, Siobhan and Dan Pritchard will be running a 100-mile race through grueling Rocky Mountain terrain to raise money for Down syndrome cognitive research. They are competing in the Leadville Trail 100-Mile Run, a race so challenging that less than half of the 1,207 participants will finish under the required thirty-hour limit.
The Pritchards are parents to one-year-old James, who has Down syndrome. They are participants in The Research Down Syndrome Foundation's RDS Runners program. This national group of parents and other advocates run to raise awareness of the promise of research aimed at understanding and treating intellectual disabilities in Down syndrome and accelerating the progress of this breakthrough medical initiative through increased funding.
Siobhan reflects, "As we've learned more about the potential of treatments that will assist our son James and so many others, we are reminded on every training run why we are doing this. One step at a time we'll get closer to some therapies that will improve memory and learning in persons with Down syndrome, helping them live more independently. This would make such a difference in James' life."
The money raised through their effort is being donated to Research Down Syndrome, a leading provider of research directed toward understanding and treating intellectual disabilities in Down syndrome.
"There remains a large unmet medical need for treatments to address not only the learning and behavioral challenges associated with Down syndrome, but also the increased likelihood for Alzheimer's disease," states RDS President, Dr. Robert Schoen. The Pritchards agree, adding: "As parents, we are concerned by the connections between Alzheimer's disease and Down syndrome. We won't be around forever to protect James and be there for him. We need to know that James is going to be okay being on his own, without us."
Progress in this medical initiative is encouraging. Two clinical trials are underway to investigate potential drugs designed to address the cognitive and behavioral deficits associated with Down syndrome. An additional clinical trial is in discussion to test a vaccine designed to offset the development of Alzheimer's disease in persons with Down syndrome.
"This effort to support the promise of Down syndrome cognitive research to assist persons with Down syndrome is inspiring. We are grateful to Siobhan and Dan, and all teams and donors who have joined in solidarity with their effort," adds Dr. Schoen.
To learn more about Siobhan's story, visit the Run with Siobhan page: http://www.crowdrise.com/RunWithSiobhan. For updates on the Pritchards' progress in the Leadville 100, follow @RunWithSiobhan on Twitter or visit the Research Down Syndrome website at http://www.researchds.org/.
About Research Down Syndrome
Research Down Syndrome is among the leading sources of private funding for Down syndrome related cognitive research. RDS supports and funds Down syndrome cognitive research conducted at research institutions that are studying the basis of the intellectual impairments associated with Down syndrome, including Alzheimer's disease. Research Down Syndrome is a legal corporate entity, and is a 501(c) (3) nonprofit organization designated by the Internal Revenue Code. For more information, go to http://www.researchds.org, or contact RDS: info(at)researchds(dot)org or 847.710.2251.
Robert Schoen, Ph.D.
847.710.2251