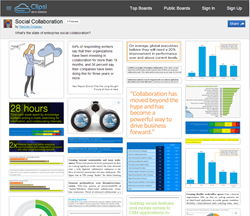 Clipsi is like Pinterest's business-savvy older sister.
Seattle, WA (PRWEB) August 21, 2013
Move over Pinterest and Evernote because Clipsi is targeting the enterprise in a big way. Clipsi (pronounced klip•sē) lets business users clip key passages and exhibits from web pages and popular file sharing solutions, and organize the information in collaborative forums. Clipsi combines three of today's most popular activities: clipping, file sharing, and social collaboration, into a powerful new enterprise social collaboration solution.
Over 80% of all business information is unstructured and in the form of documents, spreadsheets, presentation slides, web pages, etc. Clipsi lets business users extract valuable information from all of these sources and organize it where co-workers can collaborate and discuss it. All clips link back to their original source, so users can easily discover more information when interested.
Clipsi engages teams in the early phases of projects by giving them a place to gather and share information, ideas, and thoughts. Clipsi is also valuable as a marketing tool for those marketers that rely heavily on content creation to drive traffic. Clipsi boards can be created from multiple marketing collaterals (white papers, blogs, brochures, product literature, etc.) and can be embedded into web pages and blogs. Clipsi's boards and clips engage readers in the content and act as an excellent promotional vehicle for organizations.
"It's all about engagement," said Paul Yantus, CEO of Clipsi. "Enterprises need to get more out of their employees. To do that, employees need to be more engaged. We understand that enterprise social technologies must achieve this goal to prove their value in a business setting."
Clipsi intends to roll-out three versions of the service over time: Personal, Team, and Enterprise. The Team edition, will introduce greater privacy and more robust group collaboration features and is due this fall. The Enterprise edition is being designed for activities that occur behind an organization's firewall.
Clipsi has been in private beta for the past month and recently, quietly opened to a public beta. An early beta participant, Christina Gay, described Clipsi as "Pinterest's business-savvy older sister." Clipsi's public beta is open to anyone who wishes to try it and is free. The free version supports Dropbox for file sharing, and connects to LinkedIn, Google, Facebook, and Twitter for social sharing. Clipsi plans to support other popular file sharing systems in the near future.
Clipsi just announced a new user contest to encourage the creation of engaging boards. Users simply need to create a board, share it, and get others to comment. Every unique visitor and comment will count towards winning the contest. The person that creates the most engaging board will win a new PlayStation 4 at the beginning of November.
Readers can view Clipsi boards and sign up for the beta at http://www.clipsi.com
About Clipsi
Clipsi is a social collaboration solution that enables business users to clip content from web pages and files (i.e., documents, spreadsheets, presentation slides, web pages, etc. ), and put the clips on boards where teams can collaborate by using the clips to connect to related people, conversations, and information. For more information, contact us at http://www.clipsi.com, or email info(at)clipsi(dot)com, or phone +1 (425) 216-6170.