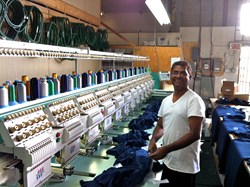 Montreal, Quebec (PRWEB) August 15, 2013
As e-commerce revenues continue to increase, embroidery services are now transitioning into the online marketplace. New Canadian company, Mr. Stitches, launches online service.
The commercial embroidery industry took in close to $750m of revenue in 2012. Despite the volume of business they enjoy, embroiderers have been slower to adapt to the online market when compared to other sectors of the garment decoration space.
Print-on-demand giants such as Vistaprint and Zazzle have been offering custom embroidery services for over a year now. Among the giants, new entrants into the market are emerging.
"Due to the large number of existing production facilities across North America, I believe that we are at the very beginning of a big shift in the way that embroidery services are marketed and fulfilled," said Anas Uddin, VP at MrStitches.com.
Fouad Moursi, an embroiderer with 20 years of experience in the field, is working with the Mr. Stitches team to ensure that key operational issues are identified and addressed. For those interested in shifting to online ordering, Fouad and the team at Mr. Stitches have provided a short list of recommendations for a hassle free embroidery experience, be it online or traditional.
Stitch Tips
1. Get the design right
"When submitting a logo or design for embroidery, make sure that it doesn't contain small details, like tiny text or fine lines. Also avoid gradients in your design. Bold lines and strong typefaces work best."
2. Get the file right
"At the risk of sounding too technical, vector files are preferred over raster files. If you don't know the difference, ask your graphic designer. Most embroiderers are equipped to work with multiple file types, but getting it right from the start could save you time, money and headaches."
3. Size matters
"If you have specific size requirements, for example, if you will be using a wide range of garment sizes, then make sure that either a. your files are already the correct size for each target garment and labeled appropriately, or b. you communicate in writing the various sizes that you will require."
4. So does weight
Embroidery generally takes better on heavier garments. "In our world most t-shirts are considered 'light,' so I try to steer clients away from those garments and recommend polos, knits and heavier cotton blends."
Mr. Stitches is a provider of custom online embroidery services. Headquartered in Montreal, Canada, Mr. Stitches currently fulfills custom embroidery orders in both Canada and the U.S. The company is quickly growing its online client base and production capacity.