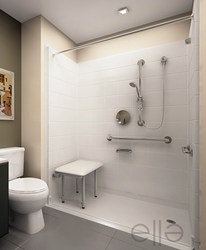 Premium multi-piece handicap shower systems in a box!
New York, NY (PRWEB) August 14, 2013
A great resource for handicap shower systems, Aging Safely Baths announces they will now be offering wheelchair accessible showers that are made in the U.S.A. According to the company, these quality disability bathing systems come with industry leading 30 year manufacturer warranties and premium designer fixtures.
These specialty bathing products can potentially help increase independence for bathers who may have a disability and for the elderly. The low threshold shower pans make it ideal for people that have limited use of their legs or extremities. Safety grab bars are typically installed next to the seat to assist the bather in sitting down or raising up off the shower seat. The ADA grab bars can also be installed near the bathing appliances entry which may offer additional support while entering.
Low threshold bathing appliances can be installed into most residential locations but also may be ideal for some commercial applications such as hospitals, nursing homes, long term care centers and physical therapy centers. Several of the products Aging Safely provides are ADA compliant and may be ideal for bathers who have difficulty getting in and out or a regular bathtub.
While these showers might be a great solution for some people, they don't offer customers the ability to soak in warm water. For shoppers that are looking for a bathtub that can fill up with water, the company also offers a full line of premium walk in tubs that have the option of warm air hydrotherapy and whirlpool water jets. These unique appliances come with low step in features that can vary from a few inches typically, up to 7". Several of the models have seats actually built into the bathtub. The construction of the products can vary from high grade fiberglass and acrylic to triple get coat depending upon the customers particular needs.
Wheelchair access transfer baths may also be a great option for bathers interested in the potential benefits of hydrotherapy and being able to soak in a bath. The design of a transfer tub is somewhat different than a traditional step in tub. Transfer baths have a cut out where the seat is located which may make it easier for a bather with limited mobility to enter the bath. Disability lifts can also be used in conjunction with these specialty tubs.
There are numerous things to consider before purchasing this type of product besides for the installation and whether or not the tub will fit into the bathroom. Aging Safely has trained walk in tub and handicap shower stall experts that can help guide clients into selecting the best appliance for their particular needs. The company also offers no cost shipping to the continental United States.
Contact Information:
Zach Wennstedt
1-888-779-BATH(2284)
info(at)Agingsafelybaths(dot)com
http://www.agingsafelybaths.com