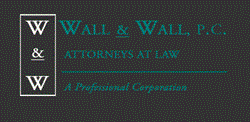 Wall & Wall Attorneys At Law PC is happy to announce that they are offering a 15% discount on all retainers.
Salt Lake City, UT (PRWEB) August 23, 2013
Legal troubles can be difficult and time-consuming, not to mention expensive. If somebody were having legal troubles, it would be wise of them to save money in any way they can. The attorneys at Wall & Wall understand how hard this can be on people who are simply trying to hold on to their lives. That is why they are offering this special, in order to help people who are trying to rebuild their lives. Hopefully, this deal will make it just a little easier on them during this tumultuous time in their lives.
No matter why somebody needs a lawyer, whether it's a divorce or a criminal charge, Wall & Wall will give him or her 15% off the retainer. This will give some people an opportunity to have a lawyer on their side that they may not have been able to afford before.
Whenever somebody is involved in a legal matter, divorce or otherwise, they should always have an attorney on their side to help them navigate through with as little damage as possible. Attorneys are trained and educated on the nuances of the legal system and can help their clients get a favorable ruling in any kind of situation.
In order to receive this 15% discount, simply call Wall & Wall at 801-441-2388 and mention Coupon Code: Wall15. This will get callers the 15% discount on the retainer and get them one step closer to successfully navigating the maze that is the court system. They will have an advocate that will stop at nothing to ensure that they receive the most favorable outcome possible.
About Wall & Wall Attorneys At Law PC:
The attorneys at Wall & Wall believe in justice and equality for everyone. They will stop at nothing to ensure that their clients receive a satisfactory outcome.
Contact:
Cory Wall, Partner
Wall & Wall Attorneys At Law PC
2168 Fort Union Blvd.
Salt Lake City, Utah 84121
801-441-2388
http://www.walllegalsolutions.com/