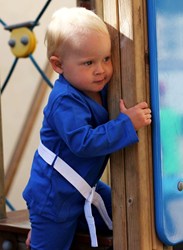 I bought a black belt to surprise my husband and tell him I was pregnant. He loved it!
(PRWEB) August 15, 2013
Cuteness is probably not the first thing that comes to your mind when you think of fighters in the Octagon, but if you take a look at Baby grappling, you may agree on the cuteness.
Baby grappling is not a new style of martial arts; it is a clothing brand for babies and kids who are somehow connected to the world of martial arts. It has become increasingly popular among dads and the Baby gi is often the first item they buy for their newborn babies. Whoever said men don't shop for baby clothes would normally be right, but that does not apply when it comes to the Baby gi.
Baby grappling was founded in 2009 with the launch of a white Baby gi, which is a miniature martial arts uniform designed to be used everyday by little kids who like comfortable clothes.
The unique design of the Baby gi is patent pending. Unlike the regular gi's, the Baby gi jacket has a closed front and is pulled over the baby's head just like a t-shirt. The knot on the belt is already tied and sewn onto the belt. The belt can be adjusted in size with velcro fastening. In addition to this, there are belt loops on the side of the jacket, to make sure the belt stays in place and to make it difficult for the young kids to remove it.
The fabric is really soft 100% cotton and the whole outfit can be machine washed.
This summer, the customer base was tripled with the addition of bigger sizes, to meet customer's requests. The Baby gi's are now available for infants and kids up to 5/6 years old. Pink Baby gi's are also available for the first time.
The bigger sizes are also created for daily use, even though the Baby gi could be used in children's martial arts classes where tracksuits are allowed.
One more detail; the new Baby gi's have white belts, which is the belt color for beginners. People can still buy single belts in different colors, like black, blue and pink.
And because customer service is very important to Baby grappling, we're now open for international orders on our new online shop on babygi.com.
The Baby gi's continue to be available on Amazon.com and Amazon in Europe. Direct links can be found on our website, babygi.com.
To follow up on news about new products or just to see cute photos, visit the website babygi.com, like Baby Gi on Facebook or follow @BabyGrappling on Twitter.