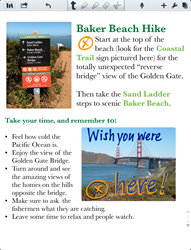 San Francisco, California (PRWEB) August 15, 2013
Ginger Labs today announced Notability is optimized for iPhone and iPod touch with its latest update. Notability now runs beautifully on iPhone, iPad and iPod touch, and also includes iCloud support so your notes stay up to date across any of your iOS devices. These features make Notability the perfect place to save ideas, capture lectures and import documents for annotation.
Notability on iPhone and iPod touch is gorgeous, with great care taken to provide the optimal note-taking experience. Current users will find this update intimately familiar, while new users will love the full feature set. Notability is now designed to provide the maximum amount of space for note-taking and reviewing, to make backing up to free cloud services seamless and to enable time-saving collaboration between students and teachers, professionals and their clients, and global business teams. With the addition of iCloud, your notes are synced automatically across iPhone, iPad and iPod touch.
"With this awesome new update, users can now conveniently access their notes and create simple lists or full-featured notes from their iPhone or iPod touch," said Fred Mitchell, CEO, Ginger Labs. "Plus, with the addition of iCloud support, they can also sync these notes and lists across any of their iOS devices. We can't wait for our users to try out the latest version of Notability."
Designed to be powerful, yet wonderfully simple, Notability provides all the tools you need to create, annotate and review notes anywhere -- advanced word processing, automatic text wrap around photos, zoom handwriting, audio recordings linked to content, PDF import and annotation and note sharing. Notability gives you the freedom to capture ideas and review information online or offline using these tools. Notability, with you every step of the way.
New features include:

A full set of tools to create, edit, annotate, organize and share notes on iPhone, iPad and iPod touch.
New scale and rotate handwriting feature.
New visual theme for iPhone and iPod touch is also available on iPad.
Improved search feature.
Improved performance and bug fixes.
Languages include English, German, Spanish, French, Italian, Dutch, Portuguese, Japanese, Simplified Chinese and Korean.
The Notability App is available for $2.99 from the App Store on iPhone, iPad and iPod touch or at http://www.AppStore.com/Notability/.