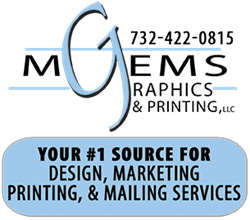 "A design is not finished until someone is using it."
New Jersey (PRWEB) August 26, 2013
MGEMS Graphics & Printing LLC ("MGEMS") (web: http://www.mgemsgraphics.net) provides Full Design & Printing Services with quality customer care. Their mission is to be able to provide a quick, efficient and readily available Printing Services to fit all of their clients' needs. Their team is available 24/7, willing and pleased to advise their clients and provide them with Informative Estimates]for all types of printing. With their knowledge and experience in the printing trade both locally and nationally, they guarantee that their clients will get the best deal on price and service for each job they do for them. Throughout the year, they place high volumes of internal and external print work, which give them the advantage of knowing which printers are offering the best deal on the type of work their clients need.
No job is too big or small for MGEMS. Their clientele ranges from the start-up business owners to franchises and non-profit organizations. MGEMS marketing team is always prepared to assist individuals and companies with quality solutions, quick turnaround and outstanding customer care.
MGEMS takes pride in working with political candidates order to fulfill their political campaign clients' needs, MGEMS marketing team has dedicated campaign marketing specialists ready to assist their clients one on one with political postcards, yard signs, campaign signs, direct mailing and more. This will save their clients time, money and effort every time they choose MGEMS for all their promotional items and graphic needs.
Their team of experts consists of educated cutting edge graphic designers, print production specialist, and management level personnel, who pride themselves on a job completed with style, originality, and class!
Call MGEMS Graphics & Printing LLC directly: 1- 855-ASK-MGEMS
Get a quote on the web: http://www.mgemsgraphics.net
Email: graphics(at)mmgems(dot)net