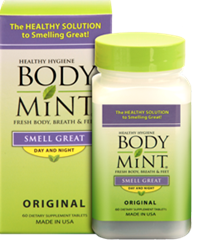 Oahu, Hawaii (PRWEB) August 15, 2013
Body Mint-USA, the maker of the innovative odor fighting product with the same name, is now offering their customers the chance to win a complimentary bottle of a Body Mint product every time they visit http://www.bodymint.com/. The company has seen tremendous growth since its inception and the owners felt it time to give Body Mint fans something exciting.
To be eligible to win a bottle of either Body Mint or Body Mint Sport, customers need only go to the website and leave a review of either product. After a visitor to the site has left their review they are entered into a monthly drawing. The winner of that drawing receives a complimentary bottle of the product of their choice each month from now on. Those who don't win during the month that they leave the review will still have a chance to win in the future because their name remains in the contest pool. That means that a customer can leave just one review but will have the chance to win month after month.
Winners are selected at random and previous winners are even eligible to be selected again. Winners will be contacted to provide their shipping information and a simple reply to the email will trigger shipment of the product directly to the winner's location.
Body Mint is a breakthrough in deodorant products. It comes in tablet form and contains no harsh chemicals. In fact consumers choose Body Mint because there is not exposure to the aluminum that is prevalent in traditional deodorants. Body Mint contains chlorophyllin, a derivative of chlorophyll, and that natural substance targets odors throughout the body, including breath, underarm, perspiration and foot odors. One tablet daily is all that is needed to keep all types of body odors at bay.
The Body Mint products are currently available on the Body Mint–USA website. To learn more about naturally made deodorant alternatives that reduce body odor or to make a purchase visit this website at http://bodymint.com/ or call 1.866.263.9646 to speak with a company representative. Body Mint also has a presence on Facebook, Twitter and YouTube and when visitors go to the Body Mint website they are able to chat live with an expert on the product.
ABOUT BODY MINT-USA LLC
Body Mint-USA, LLC is a subsidiary of Hawaiian Organics, LLC. The company was founded in 1997 with the mission to research and develop unique and healthy products that enhance the quality of life. Body Mint is Hawaiian Organic's first and most successful product. Body Mint is a natural, ingestible body and breath deodorizing/freshening tablet that is basically a deodorant in a pill.
To learn more contact:
1.866.263.9646
http://bodymint.com
###