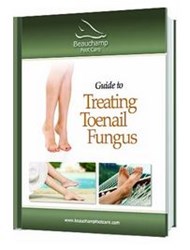 The toenail fungus laser treatment we offer...can help sufferers get rid of their toenail fungus completely
London, United Kingdom (PRWEB UK) 19 August 2013
Beauchamp Foot Care is offering a complimentary "Guide to Treating Toenail Fungus" available to download on its website. The foot clinic in London offers a revolutionary laser treatment for toenail fungal infections, as well as other chiropody and podiatry services.
"Many of the patients we see are embarrassed to show their toes in public and have lost all hope of getting rid of their toenail fungal infection," said Fiona Patterson, a partner and podiatrist at Beauchamp Foot Care. "The toenail fungus laser treatment we offer has some excellent benefits and can help sufferers get rid of their toenail fungus completely."
The "Guide to Treating Toenail Fungus" explains how toenail fungus is contracted, what symptoms to look for, and the treatment options available, such as oral medications, topical treatments and laser treatment.
The podiatrists at Beauchamp Foot Care see the best results from toenail fungus laser treatment, which shines a laser light through the infected toenail and eliminates the pathogens causing the fungus. The treatment is fast, safe, and shows impressive results for patients.
To learn more information about treatment options for toenail fungal infections, book a free consultation by visiting the website or calling 0800 907 0093.
About Beauchamp Foot Care
Beauchamp Foot Care is a clinic founded in 1990 with four experienced, highly qualified dedicated foot specialists plus support staff. The clinic treats patients for a variety of foot conditions related to fungal nail infections and general chiropody. Beauchamp Foot Care is located in central London close to Harrods. The clinic's podiatrists/chiropodists are members of The Institute of Chiropodists and Podiatrists and are registered with the Health & Care Professions Council. The podiatrists each have over 20 years' of qualified experience in podiatric care.