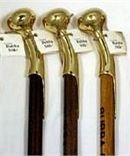 Lady Lake, Florida (PRWEB) August 16, 2013
The term "walking stick" is a general term which is now used interchangeably between any type of hiking stick or walking cane. It can be made of one, two, or three pieces. Both forms of the name are used at Walking-Canes.Net. The new fall and winter collection of walking sticks and staffs has arrived.
The handle on a walking stick may be a good support handle or maybe not, depending on what it has been marketed for. Because the term is broad, it covers any form of pole with support handles as well as uncomfortable handles, no handle, or a knob handle. It may have a rubber tip or flat metal tip, or even a hiking spike.
Typically, the difference between a walking stick and a hiking staff is size and balance. While it is designed for active use (unlike canes, which are specifically for weak or injured legs), a walking stick is about 40 to 48 inches, depending on the user's size. The hiking staff is around 48 inches to 72 inches tall.
A walking stick was originally a necessity used by people who traveled or herded animals. It was a source of protection on the road against thieves as well as a firm way to keep animals in line. Eventually, the walking stick became a symbol of power and strength, then over time social prestige as well. For example, rulers of the Egyptian culture carried staffs almost as large as six feet. Scepters were carried by royalty who had power. And ancient Greek Gods were depicted with staff in hand. These examples are of the perceived authority that the stick symbolized, rather than the actual use of a walking aid.
Only in the 17th century did the word cane begin to be used for "walking stick." That is because previously a walking stick was made of either ivory, whalebone, ebony or valuable woods. But at this time, materials such as Malacca or rattan, bamboo and other hardy reeds were used to make walking sticks.