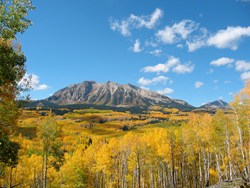 Festivals, farmers' markets, biking and running events, stargazing, gallery walks and much more also are on tap during "September Splendor in the Rockies," the Gunnison-Crested Butte Valley's month-long celebration.
Gunnison-Crested Butte, Colorado (PRWEB) August 14, 2013
Each fall, Mother Nature transforms Gunnison-Crested Butte from a valley lush with wildflowers to a spectacular mountain panorama of gold, orange and crimson. Perhaps best known for Kebler Pass, the largest aspen grove in the United States, the area offers eye-popping vistas at almost every turn on five autumn drives and the countless trails that dot this southwest Colorado area.
It's easy to become surrounded by the gold rush. Hike one of the outstanding trails off Kebler Pass or Ohio Pass, ride Trail 401 or one of the area's other classic mountain bike routes, and head out on a trail ride with Fantasy Ranch Horseback Adventures or Tenderfoot Outfitters. Crested Butte Mountain Guides and Colorado Backcountry can help beginner to advanced outdoor enthusiasts hit the trail on bike or foot, and fishing outfitters provide outlandish views of their own and insider tips about the annual kokanee salmon run. Or catch a birds-eye view of the fall foliage with Nostalgia Ballooning.
Festivals, farmers' markets, biking and running events, stargazing, gallery walks and much more also are on tap during "September Splendor in the Rockies," the Gunnison-Crested Butte Valley's month-long celebration that features fun for couples, weekend warriors and families as well as getaway options for the guys or gals. For a listing of September Splendor activities and fall travel deals, visit http://www.septembersplendor.com and http://www.gunnisoncrestedbutte.com/.
FIVE FALL DRIVE ROUTES
Ohio Creek Road to Kebler Pass
From just north of Gunnison on Colorado Highway 135, take a left on Ohio Creek Road (look for signs). About 12 miles up the Ohio Creek Valley, travelers will see the spires of "the Castles." These are erosion remnants carved out of volcanic debris that erupted from the West Elk Volcano, now extinct. Continuing on, look for a fine view of the Anthracite Range. Near the end of Ohio Creek Road is the intersection with Kebler Pass Road (County Road 12). At that junction, you can head west towards Colorado Highway 133, where southbound goes toward Paonia or northbound to Paonia Dam and Redstone over breathtaking McClure Pass, a popular route to Aspen. Heading east on Kebler Pass Road, you'll come to Crested Butte, with the eighth largest National Historic District in Colorado. Before heading to Crested Butte, take a short detour and go north to the beautiful Lake Irwin.
Kebler Pass to Marble & Crystal River Valley
Going north out of Crested Butte on Whiterock Avenue, the road turns into County Road 12, a well-maintained, hard-surface dirt and gravel road. A stop across the road from Horse Ranch Park provides one of the most scenic landscapes of the Anthracite Mountain Range and a predictable pocket of red amongst the expanse of gold and yellow. Continuing on through the West Elk Mountains, pass by the scenic vista of the largest aspen grove in the United States. After a total of 30 miles from Crested Butte and at the intersection of Highway 133, go right and travel along the Paonia Reservoir and over McClure Pass. After the right turn onto Highway 133 and another turn on County Road 3, it is approximately 27 miles to Marble, a historic mining town.
West Elk Loop Scenic & Historic Byway
One of the most picturesque drives in Colorado is the West Elk Scenic & Historic Byway, a 204-mile route that includes Crested Butte, Almont, Gunnison, Crawford, Hotchkiss, Paonia, Redstone, Carbondale and more. From Gunnison, the byway heads north on Highway 135 to Crested Butte, continues on the gravel Kebler Pass Road (County Road 12) and links with Highway 133 near Paonia Dam. Complete the loop back around to Gunnison by going south on Highway 133 and east on Highway 92 toward Blue Mesa Lake and the north rim of the Black Canyon of the Gunnison National Park. At Highway 50, go east back to Gunnison through Curecanti National Recreation Area or west to the main entrance of the national park and Montrose.
Almont to Various Scenic Routes
Between the towns of Gunnison and Crested Butte on Highway 135 is Almont, where the Taylor and East Rivers meet to create the Gunnison River. From Gunnison, go east at Almont on Taylor Canyon Road to Taylor Park Dam and Reservoir. From here travelers have three choices: 1.) Go east on Cottonwood Pass to Buena Vista; 2.) Go north and loop back to Almont on Spring Creek Road; or 3.) Go southeast through one of the richest gold strike areas in Gunnison County traveling through Tin Cup, over Cumberland Pass, and through Pitkin, Ohio City and Parlin before reaching Gunnison.
Crested Butte to Gothic
Drive three miles from Crested Butte to Mt. Crested Butte and continue to Gothic, located on the east bank of the East River at the junction with Copper Creek. Gothic was a mid- to late-1800s boom town that now is home to the famed Rocky Mountain Biological Laboratory, a scientific field station. Camping and hiking and biking trails can be accessed from Gothic.
AUTUMN DEALS
Each fall, the salmon "run" from Blue Mesa Reservoir back to the Roaring Judy Hatchery on the East River near Almont. Experience the country's largest landlocked kokanee salmon run for just $250 per person with Three Rivers Resort's Run With the Salmon, Sleep in Comfort package, which includes a two-night stay in a standard mountain chalet (double occupancy) and a full day walk/wade fly fishing trip with Willowfly Anglers. Three Rivers Resort is located in Almont on the banks of the Taylor River. This package is valid Sept. 2 – Oct. 17, 2013. Call (970) 641-1303 or visit us at http://www.3riversresort.com/.
Professional photographer Allan Ivy is holding customized Autumn Brilliance Photography Workshops by appointment starting at $75 per hour for one-on-one instruction or $55 per person/per hour for two people sharing the same workshop session. This offer expires on Oct. 15, 2013. For information, call (970) 641-3186 and visit http://www.allanivy.com/.
With large balconies overlooking golden aspens and majestic mountains in Mt. Crested Butte, San Moritz Condominiums is offering Fall Splendor Starting at $96 Per Night. Roomy condos start at just $96 per night (double occupancy) from Sept. 3 – 30, 2013. Call (800) 443-7459 and visit http://www.sanmoritzcondos.com/.
Save 20 percent on lodging and receive a free weekend scenic lift ride for each person on the reservation with Crested Butte Mountain Resort's September Splendor offer. This deal is valid for travel Sept. 2 – Oct. 1, 2013, with the Red Lady Express chairlift open from 10 a.m. - 5 p.m. on Saturdays and Sundays in September. Call (800) 810-7669 and visit http://www.skicb.com/.
Autumn also is a great time for a Cowgirls' Getaway at The Ruby. Upon arrival, find gift baskets filled with Boss Lady smokin' hot bath and body products and an evening of leisure. The next day starts with a country gourmet breakfast and continues with a horseback ride with Fantasy Ranch Horseback Adventures, massage and dinner on the town. The package starts at $525 per person, includes a two-night stay and the activities and gifts mentioned and is available from September through mid-October, 2013. Call (800) 390-1338 and visit http://www.therubyofcrestedbutte.com/.
VACATION PACKAGES & VISITOR INFORMATION
To save on flights, hotel rooms, vacation packages, car rentals and more, call the Gunnison-Crested Butte Tourism Association reservation hotline at (888) 559-0841 or go to http://book.GunnisonCrestedButte.com/. For destination information, call (800) 814-8893 or visit http://www.GunnisonCrestedButte.com/.