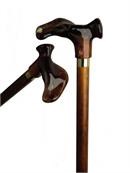 Lady Lake, FL (PRWEB) August 16, 2013
Palm Grip Canes have anatomically correct handles for a comfortable grip. As the name suggests these types of handles are designed for the palm to comfortably rest in the molded part. The palm grip is designed for optimum comfort, support, and stability. Palm Grip canes feature a molded handle design that evenly distributes body weight over the surface of the handle.
The palm grip cane is perfect for users who must stand for longer periods of time, such as teachers, speakers or anyone having to conduct meetings. Besides being comfortable palm grip canes come in a variety of colors and are made from different materials. One will be able to get a palm grip cane for every occasion from Walking-Canes.Net. People who have tried many varieties of canes say the palm grip is, by far, the most comfortable and comes in some of the most luxurious styles available. A palm grip is one of the best cane handles around.
Walking-Canes.Net has received a new line of Palm Grip Canes. These canes come in many different colors as well as metal or aluminum shafts, depending on the needs of the user. The Palm Grip comes in left or right hand models
The Palm Grip canes offers style and fashion that a user may require. The days are gone when the walking cane was just a piece of plain wood. Today, the palm grip canes comes in many fashionable colors and some are even adjustable so and can adjust to the individual height requirement. The Woody Palm Grip Cane is an example of the new age of palm grip canes. Try one of the many styles that are offered on the website.
Contact customer service for placing an order or for any general questions one might have concerning this type of cane handle. The toll free number is 1-888-928-1774 for inquiries.