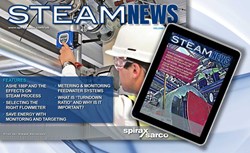 Blythewood, SC (PRWEB) August 15, 2013
Spirax Sarco's July digital issue of Steam News is now available and is packed with exciting educational information about flowmetering technologies and applications. Highlights of the issue include:
ASHRAE 188P and the effects on steam processing – With the outbreak in the past few years of Legionella, the ASHRAE organization has reviewed the previous guidelines developed and collaborated with industry professionals to develop a more comprehensive focus approach to help businesses mitigate the risk of infection.
Selecting the right flowmeter for your facility – Take a look at the Flow Selection Guide and view what flowmeter technologies are available based on the fluid being measured in your facility.
Save energy with monitoring and targeting - You can't control what you can't measure. Learn how monitoring and targeting schemes are typically the first important step in any campaign to saving energy.
Metering and monitoring feedwater systems – Get a full explanation on how to measure condensate return, the correction configuration and where and how to dose chemicals.
Steam Tip of the Month – What is meant by the term "turndown ratio" of a floweter and why it is important?
Additional content is also available including industry editorial, training opportunities, new product innovations, energy saving tips and much more to help improve plant production, sustainability and energy efficiency. To download the July digital issue of Steam News go to: http://bit.ly/zYjZsw .
Have an iPad? Get the App version of Steam News. The App version of the July issue will hit iPad newsstands the week of July 19th via the Apple store and is pack with additional information including the 7th edition of the Flow Measurement Catalog as well as the sort out Spirax Sarco Design of Fluid Systems: Steam Utilization and Hook-Ups books.
Steam News Magazine:
Steam News is a digital magazine published quarterly for plant managers, facility and operation professionals and engineers in the manufacturing industry. The goal of this publication is to provide readers with the expertise and solutions to make informed decisions as they relate to the needs of their steam system facility.
About Spirax Sarco, Inc.
Spirax Sarco is the world leader in steam system management. The Company provides a broad range of fluid control products, engineered packages, systems expertise and site services for its diverse range of over 100,000 industrial and institutional customers. The Company helps its customers to optimize production capacity, reduce energy costs and emissions, improve product quality and enhance the safety of their operations. Spirax Sarco has strategically located manufacturing plants around the world and employs approximately 4,700 people, of whom around 1,300 are direct sales and service engineers. Further information can be found at http://www.spiraxsarco.com/us .