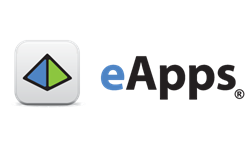 PCI compliance has been time consuming and frustrating, until now. We not only recommend ControlScan's PCI 1-2-3, we use it. The service saved my sanity, and I am confident it will save our customers time and money.

Barry Deutsch, Vice President
Norcross, GA (PRWEB) August 15, 2013
eApps Hosting announced the availability of PCI 1-2-3, a PCI compliance service offered by ControlScan®, an Approved Scanning Vendor & Qualified Security Assessor under the PCI Security Standards Council. The service is made possible through a partnership between eApps Hosting and ControlScan.
ControlScan's service is accessed via a web based portal that provides four major functions to minimize the pain incurred, and time spent, gaining compliance:
> Self Assessment Questionnaire - a step by step, visual tool that guides the merchant through the process of determining the applicable Validation Type, as defined by PCI Data Security Standard (DSS) version 2.0
> Scanning - network, server, and web application scanning that clearly shows vulnerabilities and provides automated support for the resolution process
> Policy Builder - a set of custom security policies, and policy templates which are automatically generated based on the merchant's card payment processes
> Security Awareness Training - on-demand training, delivered in layman's terms and which satisfies the PCI DSS security awareness requirement
The service also provides Breach Protection coverage up to $50,000 and is backed by a highly trained staff with expertise in PCI DSS.
ControlScan's PCI 1-2-3 service is available to all of eApps Hosting's Virtual Machine in the Cloud, Virtual Private Server, and Dedicated Server customers starting at $220 per year per commerce site.
For additional information contact eApps Hosting at +1-770-448-2100 USA or +44 (0)20 8133 6940 UK, Skype: eappshosting, or visit http://eApps.com for on-line chat assistance.
eApps Hosting is a value-added provider of cloud hosting services for businesses and organizations, serving more than 5000 customers, hosting over 15,000 domains in more than 125 countries. The company offers "Virtual Machine in the Cloud," a hosting service that allows precise selection and adjustment of RAM, CPU, disk and other computing resources using the Create-A-Cloud® tool. The Linux or Windows Virtual Machine is provisioned in minutes. eApps services are backed by a responsive in-house 24/7 technical support team available by phone, Skype, chat, and email.
PCI 1-2-3 is a product of ControlScan®, Inc., Windows is a product of Microsoft Corporation, OnApp is a trademark of OnApp Limited.