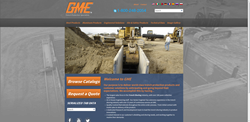 Union City, MI (PRWEB) August 19, 2013
GME is excited to announce the launch of its new website: http://www.gme-shields.com highlighting a fresh, updated look providing users with an easier means of finding and using online information.
The website builds on the foundation of the previous website by being a resource for dealers and for end users. The new site continues this by allowing users to easily view and navigate the site on mobile and tablet devices as well as desktop and laptop computers.
The product categories are easier to navigate, and now certain product sections contain links to assembly videos. Other upgrades include a product image gallery as well as links to GME social network sites.
The industries first serialized tabulated data search bar is still prevalent throughout the site.
To see the new website, please visit http://www.gme-shields.com today.
About GME
GME is the world's most complete producers of Trench Shields and Trench Shoring Equipment. The products we offer a range from a single hydraulic shore system, trench shields, slide rail systems and the MD Brace system-the only hydraulic bracing system produced in North America. Through one of the largest distribution networks in North America, as well as distributors serving the European, Asian and Australian continents and our products can be found on numerous job-sites throughout the globe.
As an industry pioneer since the 1960's, GME quickly took a leadership position in product engineering and industry development. GME holds patents on many trench shield features and continues to lead the industry in the areas of product development, product innovation and product effectiveness.