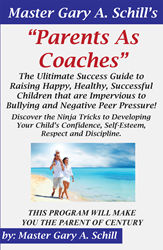 School Districts are forcing bullied children to be nice to their bullies and be-friend their bullies.
Cedar Park, TX (PRWEB) August 16, 2013
According to Master Gary A. Schill, New Anti Bullying Policies set forth by local school districts are setting children up for failure and possibly endangering their confidence and self-esteem.
Due to new Anti Bullying Laws in Texas, School districts are having to finally address policies that deal with this age old issue. Yet the mistake that most school districts are making is developing policy from within their administration and not involving outside experts. According to Master Schill, one of the primary rules of engagement is for bullied children to be-friend their bullies and be nice to their bullies. This dangerous precedence will force children to interact with the very person that is verbally or physically assaulting them.
Many children that are bullied have very low self-esteem and self-confidence. Much of this starts at home due to lack of attention and interaction they receive from parents and siblings. For many students who feel they get little to know attention, even the attention from a bully is attention. By forcing them to befriend their bully and be nice to their bully we are creating the "Moth to the Flame" affect.
Master Schill encourages parents and teachers to stop forcing children to be friends with people they do not like or that treat them with disrespect. There is a proven success principal "We are the Sum of the 5 Most Influential People in our Lives". Children who hang around successful people have a greater opportunity to achieve success. However, children who hang around children that constantly get into trouble experience the same behavioral issues as the children they are friends with.
According to Master Schill, children who hang around success people have a higher self-esteem and children who hand around children that experience negative behavior have a lower self-esteem and seek negative attention. In addition, Master Schill states that "9 out of 10 children are happy letting someone else lead." Children who are very easily led by the wrong group of people are easily manipulated to carry out acts of bullying, crime and negative behavior.
Master Schill teaches parents in his "Parents as Coaches Program" to monitor their children's friends and play groups to ensure they are hanging around positive influences. Be pro-active in choosing the proper coaches, teachers and mentors in all areas of their child's development. Master Schill also teachers parents to choose their friends wisely as well. Children emulate the character traits of parents and if they have negative relationships, children will assume the negative behavior is acceptable and will seek the same types of relationships in their peers.
Master Gary A. Schill is the creator of the "Parents as Coaches Program", a three-time best selling author and recipient of the coveted Quilly Award by the National Academy of Best Selling Authors. Master Schill works with more than 25,000 children annually through the local school district teaching anti-bullying and abduction prevent programs.