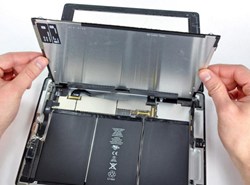 I jumped at the chance to work with iPads as I owned one and was fascinated to know how they actually worked
Greater London, London (PRWEB UK) 14 August 2013
There are many work experience horror stories – for many of us, our bright eyed and bushy tailed attitude was quickly extinguished after being left to languish in the corner. But times are changing; businesses are being urged to reshape work experience programs with a new model that better meets the needs of both businesses and young workers – namely, by injecting a healthy dose of inspiration.
BEST (Business and Education Succeeding Together) was first established in 1997. Its aims are to bridge the gap between employment and education by forging a strong relationship between local businesses and schools. The partnership offers a wide range of work experience and mentoring opportunities for pupils in secondary schools across London boroughs.
iPad Repair London has been provided work experience to local teenagers from Central Foundation Boys' School since 2008. Previous to his work placement, Rahul wanted to embark on a career in acting but following the success of his time at the iPad Repair London he has now switched his career options to working in IT and Telecommunications.
Rahul commented "I jumped at the chance to work with iPads as I owned one and was fascinated to know how they actually worked. Replacing screens requires a lot of concentration, more concentration than sitting an exam as one slip of the hand means that you've caused more damage. The responsibility and trust that I was given was great."
Ryan Newman, manager at the iPad Repair London ensures that a young person's first taste of work is meaningful and inspiring.
"We aim to provide young people with a genuine and meaningful experience of work, to inspire them by raising aspirations and broadening their perspective of future career goals. A positive work experience can change a disadvantaged young person's life. We are delighted to be nominated for such a worthy award."
This is an industry that for every one reputable company that stands behind their work, you'll find three guys on the corner using sketchy parts off eBay to make a quick buck. iPad Repair London stands by the quality of their repair service and provide a 12 month warranty on screen repairs at no extra cost. They are located in London and serve Londoners and as a result provide a free courier collection and delivery service. They provide a quality service at unbeatable price of £100 with no hidden charges. To find out more about the services offered by iPad Repair London visit http://www.ipadrepairlondon.org.uk/ or call 0207 100 1212.