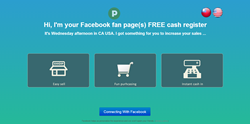 Likepaid cures merchants' pain of maintaining multiple eCommerce accounts and offers a way to securely and effortlessly accept payments right on your facebook page.
Arcadia, CA (PRWEB) August 22, 2013
It's no doubt that F-commerce is on the rise. Despite all the trends and numbers, the biggest obstacle for merchants to sell on Facebook is that there is lacking "a simple way to accept payment securely and effortlessly". Likepaid offers both and more features in favor of users.
Likepaid.com, a free Facebook cash register has announced a set of new features. By taking a different route, Likepaid does not hold the fund (payments from buyers) for a certain period of time before releasing the fund to its users (sellers). Likepaid gives total control to its users. It's like opening a real store which users are able to process payments, track orders, manage inventories, and the best of all is that payments will go into users' accounts INSTANTLY right after sales have been completed.
Another unique offering from Likepaid is that merchants who owns multiple stores (either selling similar products or totally different offerings) are able to open multiple Facebook stores all in one click. The coolest thing is that if users use Likepaid to open 5 Facebook stores, there will be 5 eCommerce stores automatically being built simultaneously. Sellers can direct fans to their storefronts or to Facebook stores to purchase offerings. The greatest thing here is that Likepaid integrates all inventories among all stores. Sellers can manage inventories all in one place. It's simple, easy, and intuitive.
Likepaid didn't stop right where they were. They went one step further. Sellers can even create their own categories for their own stores. Unlike most platforms which have pre-defined categories for users to use, Likepaid figured out the best approach for its users is to let its users decide what they want. Therefore, merchants who have peculiar products will no longer scratch heads to find out which category their products belong to. Simply click "create new category" button and the unique category will appear on the storefront.
Chengfu Wu, founder of Likepaid said that this approach isn't their original idea. They had tried to penetrate the classified ads market with social offering and discovered that there is a rising pain which is operating/maintaining multiple eCommerce accounts (either websites or on other platforms) on merchants. Likepaid cures this pain for its users once and for all. After a talk with his brother who owns a bookstore and operates an eCommerce site in Taiwan. The free Facebook cash register, was born.
Launched in February this year and re-launched in June. Several iterations into this full featured cash register offering.
Try it out on http://www.likepaid.com/.