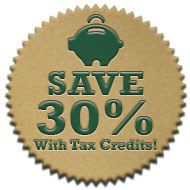 In addition to high temperature geothermal resources, virtually all of California's 58 counties have potential for Low Temperature and Direct Geothermal Energy Use. (California Energy Commission)
Silicon Valley, CA (PRWEB) August 20, 2013
Why does green California lag other states in using geothermal heating and cooling as a renewable energy alternative when the Department of Energy says more than half of today's energy consumption is from the heating, ventilation and air conditioning (HVAC) in the home?
The answer is complex.
We believe that there are heating, ventilation and air conditioning (HVAC) contractors out there that may be intimidated by this technology and fall back on what's comfortable by offering only regular energy efficient measures. To help the renewable energy movement Green Equipment Options, Inc. was formed. We exist to be the bridge between the old and new technologies and to assist HVAC contractors to get started in offering and fulfilling this newer heating and cooling technology.
How does Geothermal work?
Geothermal uses the temperature in the earth or a body of water to heat or cool homes, commercial establishments and even to regulate temperature for sensitive equipment. While traditional geothermal requires drilling into the earth and installing piping (PVC/copper) filled with a liquid (water/refrigerant), attaching this system to a heat pump to heat and cool the home; more recent changes in geothermal allows the use of a body of water such as a pool to heat and cool a home or office building. One of the better features of this method is that the waste heat is put to use heating the swimming pool while cooling the space.
A little about Green Equipment Options, Inc.
Susan Nichol, one of the three partners that make up Green Equipment Options, realized the power of geothermal as a child on vacation on a very hot summer day when she went cave exploring. She later pursued how geothermal could be harnessed for summer comfort. As a manager at a California HVAC company she was exposed to more and more geothermal jobs. These jobs included preheating cafeteria water for Google, residential comfort heating and cooling and geothermal swimming pool installations. Nichol took her prior HVAC and management experience at a Fortune 100 company and found two other equally and perhaps even more enthusiastic partners, John Townsend and Kent Penning and they started Green Equipment Options.
The CEO and founder of a California geothermal and renewable energy company, John Townsend, was taught in grade school that fossil fuels could be used up in our lifetime. This seemingly minor, inconsequential 3rd grade classroom comment struck a chord with John, and he came to believe that something needed to—and could—be done about it. From the very beginning of his design and building career environmentally-friendly solutions attracted and intrigued him. He dove into researching and understanding the theory of the various earth-friendly technologies. But John is a hands-on guy; it was their application in practice that mattered to him most.
When a young technician in 1991 decided to open his own HVAC firm people thought he was crazy, but for 22 years this SMACNA business owner, founder and president of his own company, Kent Penning not only survived recessions, but his firm has been named one of the top HVAC firms in Silicon Valley, CA by the Business Journal year after year. He was careful to make sure that his employees kept up with technology as well as certifications like NATE certifications. That meant he had to be a shining example of this for years, he has taught HVAC classes at the local college, has kept up his NATE certification and coaches his employees. Kent is a great addition to the new firm because he has the know-how from a contractor's point of view and he is focused on sharing his knowledge and insights about geothermal.
Green Equipment Options is a wholesale Equipment Distributor for heating and cooling in the green market has partnered with HVAC wholesalers of geothermal equipment and parts companies that make geothermal less expensive and/or more efficient.
If you are an HVAC contractor in Northern California or you want to be more involved in renewable heating and cooling, or perhaps you are in need of a wholesale water sourced heat pump(s) or other geothermal equipment or parts contact Green Equipment Options for advice and ordering. Green Equipment Options can be reached at 408.412.8500 or contact: info(at)greenequipmentoptions(dot)com.