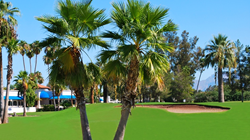 Mesa, Arizona (PRWEB) August 16, 2013
Situated on 147 acres, the full-service resort features three onsite F&B outlets, an 18-hole independent golf course with pro shop, two outdoor pools, five outdoor whirlpools and approximately 13,690 square feet of meeting and banquet facilities.
PLA agents Stephen Mills, Lloyd Farley and Adam Montufar worked collaboratively to represent the seller. "We are proud to have successfully closed on a challenging sale of the Arizona Golf Resort," noted Mills. "Through a thoughtful and competitive process, we were able to achieve sale terms that were in line with our client's requirements. This transaction further confirms a renewal of investor interest in Arizona, including markets such as Mesa, and further for complex value-add deals." The buyer was the Cantor Capital Group from Newport Beach, CA. The company initially reviewed the asset for assisted living, but determined it was best suited to keep as a hotel, making it their first lodging investment. Paramount continues to be impressed with the active investment community on all types of lodging assets, as this transaction continues to push Paramount's annual transaction volume which surpassed that of 2012 before mid-year.
Paramount Lodging Advisors is a hotel advisory and brokerage firm specializing in the acquisition and disposition of hospitality assets, asset management, as well as debt and equity placement across the United States. For more information about Paramount Lodging Advisors, please visit http://www.paramountlodging.com/.