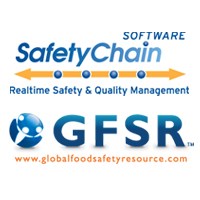 Changing regulations along with audit responsibilities can put extra demands on already over-worked food safety and quality groups.
San Rafael, CA (PRWEB) August 14, 2013
On September 20, 2013, SafetyChain Software of San Rafael, CA, will host a free 60-minute webinar entitled "How to Pass Your SQF Audit with Flying Colors." The featured guest speaker will be HACCP Consulting Group Vice President Cathy Crawford. The session will be moderated by SafetyChain SVP and co-founder Barbara Levin.
The webinar, sponsored by Global Food Safety Resource will focus on new SQF Editions and how companies can meet the inherent challenges of continuous change and be audit ready for continuous SQF certification status.
SQF is becoming increasingly popular as food and beverage companies strive to have consistent safety standards and prepare for regulatory requirements such as FSMA. Changing regulations along with audit responsibilities can put extra demands on already over-worked food safety and quality groups. Compliance software, such as the type provided by SafetyChain, can help food producers meet these increasing monitoring and reporting demands, reduce work load on client personnel, and improve overall competitiveness.
During the webinar, Cathy Crawford will address key components of SQF audits, including training, continuous improvement, management commitment HACCP/SOPs, and vendor approval programs. She will also discuss documentation and record keeping requirements, program review and modifications, verification and validation, and key components of facility performance and scoring systems.
Register for This Webinar Today.
About HACCP Consulting Group
The HACCP Consulting Group, L.L.C., of Fairfax VA, with its bi-lingual team of professionals, offers comprehensive food safety consulting, auditing and training services to food processing companies, food service organizations, trade associations and government regulatory agencies, both domestically and internationally. The company's strength is in its practical, dynamic and personalized services that focus on assisting clients maintain compliance with current regulatory and global food safety standards to confidently participate in a rapidly changing global market for food commerce. The company has special expertise in helping foreign governments and companies attain and maintain equivalence with United States food safety laws and regulations required for importing food products into the United States. http://www.haccpcg.com
About SafetyChain Software
SafetyChain Software specializes in realtime safety and quality compliance management for providers of consumable goods. SafetyChain Software's SafetyChain for Food™ helps the food and beverage industry manage safety and quality compliance in realtime – preventing non-compliant ingredients, raw materials and finished product from coming in or going out. With SafetyChain for Food's affordable solution modules – for Supplier Compliance & Management, Safety & Quality Data Reporting, HACCP/GFSI Compliance and Customer & Finished Product Compliance – food growers, producers, manufacturers, distributors, retailers, food services and importers save time, save money and create efficiencies that contribute to the bottom line. SafetyChain for Food is a global, Software-as-a-Service solution, designed for fast deployment and even faster ROI. http://www.safetychain.com
About Safe Quality Food (SQF)
SQF is recognized by retailers and foodservice providers around the world who require a rigorous, credible food safety management system. The SQF certification program is designed to help reduce assessment inconsistencies and costs of multiple assessment standards. The SQF Program is recognized by the Global Food Safety Initiative (GFSI) and links primary production certification to food manufacturing, distribution and agent/broker management certification. Administered by the Food Marketing Institute (FMI), SQF benefits from continual retailer feedback about consumer concerns. These benefits are passed on to SQF certified suppliers, keeping them a step ahead of their competitors.
About Global Food Safety Resource
Global Food Safety Resource is an online information hub delivering trusted food safety solutions and expertise to food businesses operating in global markets. GFSR strives to promote best practices to all sectors of the food industry, by offering multi-channel access to online communications in up to 60 languages. GFSR's mission is to ensure a safer food supply, we hope you will join us in our mission by visiting and subscribing to: http://www.globalfoodsafetyresource.com
For more information, please contact:
Jill Bender, Director of Marketing
SafetyChain Software
jbender(at)safetychain(dot)com; 415-233-9478
Tina Brillinger, President & CEO
Global Food Safety Resource
tina.brillinger(at)globalfoodsafetyresource(dot)com
1-888-437-7395 x 105
####