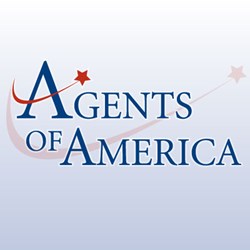 Through this partnership with WebCE, AOA will be able to provide the benefits of CE with quality loss prevention which is truly a win-win for agents and brokers in the United States"
said Curtis M, Pearsall, Executive Director of the AOA Learning
Las Vegas, Nevada (PRWEB) August 22, 2013
AgentsofAmerica.ORG (AOA) is pleased to announce an expanded strategic partnership with WebCE to deliver Insurance continuing education for the courses in the book series titled, Insurance Agency Risk Management – A Comprehensive Guide to Avoiding E&O Claims. The filing for insurance CE credits has already commenced in over 30 states and availability is expected in September.
"We are extremely excited to announce this expanded partnership with WebCE to deliver insurance CE. In our current relationship with WebCE, it was evident that they are one of the premier CE organizations in the US and we are pleased to take the relationship to the next level. Through this, AOA will be able to provide the benefits of CE with quality E&O prevention which is truly a win-win for agents and brokers in the United States. AOA is heavily focused on helping agents and brokers to enhance their personal and corporate E&O culture and commitment and there is no doubt that this will greatly assist insurance industry professionals in accomplishing that," says Curtis M. Pearsall, Executive Director of the Agents of America Learning Center. "The initial CE filings will be based on the excellent content from Book One which provides solid information on a variety of E&O topics. By early fall, the content of Book Two which is focused on the E&O exposures of the sales process will be filed for CE and other Books are planned for 2014. This material is extremely unique and will be of great benefit to virtually all levels of the insurance industry including the law firms that litigate the various cases. At the Agents of America Learning Center, our plan is to also provide this high level content in a webinar based format that will compliment the books. The webinars will be filed for CE credits as well."
"AgentsofAmerica.ORG E&O content within the Insurance Agency Risk Management book series is impressive and WebCE is honored to be a part of this program," said Jennifer Haworth Chief Operating Officer of WebCE. "The combination of the education and the value-add of Insurance CE will be a tremendous offering for the insurance producer."
Insurance CE credits will be available in September at AOA Continuing Education Learning Center for $119.00. Additional fees for book, shipping and state roster fees will be added to the order total where they apply. Group discounts will also be available through Agents of America by contacting info(at)agentsofamerica(dot)org.
AgentsofAmerica.ORG recently announced, through its partnership with West LegalEdcenter , the availability of "Book One" by mid September; see recent Press Release for complete details. AOA is extremely grateful to its authors and editorial board for their support and expertise. In addition to E&O Insurance expert Curtis Pearsall, the members of the AOA's Editorial Board includes, Editor in Chief, Dr James Kallman of St. Edwards' University, Minneapolis E&O defense attorney Britton Weimer of Jones Satre & Weimer PLLC, Professor Andrew Whitman of the University of Minnesota's Carlson School of Management, Roy Little, President and CEO at Insurance Educational Association, Angelo J. Gioia Executive Director & Publisher of AgentsofAmerica.ORG and Matthew Marrone defense attorney with Goldberg Segalla LLP in Philadelphia.
About AgentsofAmerica.ORG
AgentsofAmerica.ORG is an Insurance Association dedicated to the personal and professional growth of its Insurance Agents & Brokers members and their agencies and a indispensable resource for news, products, services, continuing education, and industry information throughout America The organization's mission is to deliver the BEST people, products, information, and services to agents all designed to help them manage and grow their business and provide ongoing value to their clients. In addition, it has become the number one resource for connecting insurance agents with industry professionals, support and guidance on Professional Liability Risk Management, Errors & Omissions Risk Management, Loss Prevention & Loss Control, Insurance Agency revenue building products and opportunities. Our motto is "Bringing the BEST Together." Visit AgentsofAmerica.ORG for more information.
About WebCE, Inc
WebCE is the leading insurance continuing education provider in North America. Each year we deliver over 850,000 insurance CE courses to insurance and financial planning professionals. WebCE's mission is to provide high-quality insurance continuing education experience at an affordable price. Our integrated suite of insurance CE courses and testing services are available either online or through traditional books.