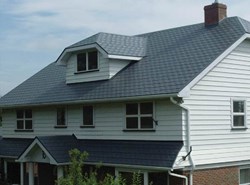 Combining investment grade metal roofing with energy efficient siding and windows & doors can enable home improvement companies to offer a total exterior energy package to consumers when renovating their homes.
Belfair, WA (PRWEB) August 19, 2013
Tom Black, the Executive Director of the Metal Roofing Alliance (MRA), announced a new program to create a greater market share for metal roofing. Currently, metal roofing represents approximately 10 percent of the residential market share in the U.S. and Canada, making it the second most popular roofing product in North America.
Tom Black stated, "As homeowners have come to understand its durability and benefits, metal has and will continue to be a popular roofing choice for consumers. However, the number of residential contractors needs to grow significantly to keep up with the demand created by the Alliance." The industry has created new products with new profiles – some resembling slate and tile. Each has a marketability for homes in all price ranges.
The Metal Roofing Alliance represents material providers of aluminum and steel, the fabricators who turn the product into metal roofing, and related companies, such as coil coating and paint companies. With the support of its members, MRA has developed a complete line of sales and marketing aids for contractors. They also have an ongoing consumer advertising and promotional program which develops leads for contractors. "Now," says Black, "we are filling in the missing piece."
MRA has entered into a long term agreement with Dave Yoho Associates (DYA), the home improvement industry's oldest, largest, and arguably most successful consulting group. The goal is to produce sales and marketing programs to further educate homeowners on this re-roofing option. DYA will also create a number of ongoing training programs for contractors, including webinars and an electronic presentation to be used in the home with prospects. In addition, DYA will be working with major financing companies to provide a special home improvement finance package for metal roofing residential customers.
Dave Yoho, President of Dave Yoho Associates, stated, "The residential metal roofing market is a huge, untapped opportunity for home improvement companies as well as existing roofers who run marketing/sales oriented companies. Premium metal roofing products can complement other exterior home improvement offerings for the leading marketing companies in the industry. Combining investment grade metal roofing with energy efficient siding and windows & doors can enable home improvement companies to offer a total exterior energy package to consumers when renovating their homes."
Dave Yoho added, "We have developed a sales method which enables large roofing companies as well as home improvement specialty companies to sell effectively in the home. We also give these companies access to Super Sales Training, which is the first online training program devoted to the in-home salesperson. We believe the MRA program presents an outstanding opportunity for those who qualify."