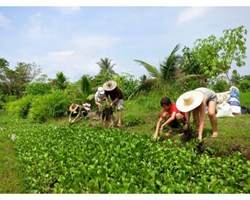 Through a variety of immersive experiences, young people have the chance to connect with people from other cultures in a very authentic way.
Jackson, WY. (PRWEB) August 14, 2013
Wilderness Ventures, the longest running and most experienced adventure travel program offering teen summer camps, gives teens the chance to connect with people of other cultures from around the world on their innovative international teen adventure trips. Through a variety of immersive experiences, young people have the chance to learn new languages, volunteer with local communities, and learn about local cooking and food, giving them a unique opportunity to connect in an authentic way with other cultures.
Language
Many of Wilderness Ventures' teen international adventure trips are built around the idea that one of the best ways to connect with other cultures is by learning and practicing the language. Wilderness Ventures' offers language school trips to both Spain and France where students have the chance to take language courses taught by native-speaking teachers. In addition to daily language classes, students get to see the sights and enjoy outdoor adventures like sea kayaking, hiking, whitewater rafting, sightseeing and history tours, meet and get to know locals, and more.
Food
Sampling local foods and learning about cooking methods that are popular with locals is a great way to be immersed in the local culture while traveling. Many, if not most, of Wilderness Ventures international teen tours offer young people the opportunity to take cooking lessons from locals, eat at local restaurants and cafes, and even dine with local families in their own homes. On Wilderness Ventures' Thailand Service Adventure, for example, teens learn to cook traditional Thai food on a working organic farm.
Community Service
Wilderness Ventures trips are created with the values of environmental conservation, community, and cultural preservation in mind. That's why many of their overseas tours include volunteer and community service projects, and oftentimes, teens can earn community service hours for participating in these programs. Teens can choose from a variety of service adventures that will connect them directly with the local community like helping to save sea turtles in Costa Rica, assisting Maasai villagers in Kenya, teaching English and computer skills to children and Fiji, and more.
Outdoor Adventure
One of the most thrilling facets of Wilderness Ventures' trips is the outdoor adventure. Through these innovative tours, young people have the chance to uncover some of the world's most beautiful and exciting landscapes through outdoor adventure. Exploring off the tourist track areas that are relatively untouched by modern development gives teens the chance to really see how locals live on a day to day basis, and gives them a realistic picture of the lifestyle of these international cultures.
To learn more about Wilderness Ventures, visit http://www.wildernessventures.com/.
About Wilderness Ventures:
Pioneering outdoor adventures for young adults and with more than 21,000 student alumni, Wilderness Ventures has paved the way for domestic and international teen adventure travel. Wilderness Ventures four decades of unwavering values of community, wholesome environments, safety, wilderness education, conservation, and exploration have resulted in an unmatched and trusted reputation.