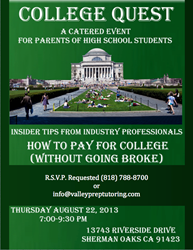 What you don't know about the college application process can not only hurt your teen's future, it can potentially cost you thousands of dollars in avoidable expenses.
Los Angeles, CA (PRWEB) August 16, 2013
http://www..valleypreptutoring.com [Valley Prep Tutoring Services __title__ ], a team of elite, Ivy League educators, offers no-cost VIP Gift Passes to the College Quest event.
Upcoming catered, multi-speaker forum will take place Thursday August 22nd from 7:00pm-9:30pm at 13743 Riverside Drive, Sherman Oaks CA 91423.
Ticket value estimated at $249 per family, but no-cost reservations are available by calling (800) 766-8201 or emailing info at valleypreptutoring dot com.
Presenters include Sam Mikhail from College Made Easy, Stephen Hall of Hall & Associates Financial Advisors, Josh Covitt, test prep expert and author of "Get 100 Points", and Teri Greenbaum of LA College Consulting. Los Angeles tutors and allied colleagues will attend, equipped with expertise and open to questions about this sometimes mystifying process.
This is not a selling event, but an evening of information and discussion for parents to attend either alone or with their students. Valley Prep Tutoring offers this event to the community in keeping with its mission to educate the hearts and minds of students across all academic areas. From homework support through the AP level to SAT and ACT test prep, this boutique tutoring agency is trusted by many of the most notable parents in Los Angeles: Emmy Award-winning producers, best-selling authors, rock stars, talent agents, and world-renowned physicians and lawyers.
Event will be hosted by Valley Prep Director Pamela Donnelly, whose new book "How to Be an A+ Parent: The Proven Path to Your Teen's Success" will be available at the event. In it, Donnelly describes what she calls "the four marathons" of parenthood. A summa cum laude & Phi Beta Kappa graduate of Columbia University in the City of New York with degrees in writing and secondary education, she will share insights and stories gathered over her 20 years as a professional educator and mother of three both in the book and at the College Quest event.