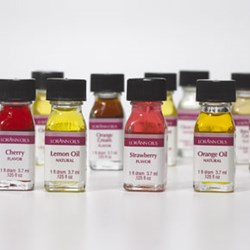 LorAnn's premium candy oils and flavorings are sought-after by cake decorating enthusiasts and candy crafters
Lansing, Michigan (PRWEB) August 20, 2013
LorAnn Oils is pleased to announce their products are now sold in over 1200 Michaels Stores across the United States and Canada. A wide selection of LorAnn's products will now be available in the baking aisle just in time for the fall and winter baking and candy-making season.
"LorAnn's premium candy oils and flavorings are sought-after by cake decorating enthusiasts and candy crafters", says Troy Sprague, LorAnn Oils National Sales Manager. "Michaels' strong presence in the cake decorating and overall craft market makes them a good fit as our products appeal to the same customer. This holds true for other accounts such as Hobby Lobby, some Jo-Ann's, as well as Wal-Mart stores that offer LorAnn products."
Michaels' shoppers will find an assortment of LorAnn's "super strength" candy oil flavorings including cinnamon, peppermint, lemon and watermelon. These concentrated flavorings are ideal for use in candy making and baking. Five flavors of LorAnn Oils' popular Bakery Emulsions, which are water-based alternatives to flavoring extracts, are also available along with premium food colors and candy-making supplies.
About LorAnn Oils: Family-owned and operated since 1962, LorAnn Oils manufactures and distributes high-quality, gourmet flavorings, essential oils and specialty ingredients catering to both the home consumer and to manufacturers including bakeries, cake-pop businesses, cupcake businesses, candy-makers, popcorn shops and more."