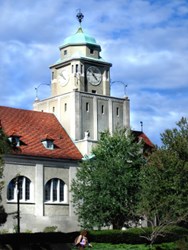 Our streamlined operations and focus on exceptional tutoring enables us to scale up quickly and provide superior service that helps students from all walks of life succeed.
St. Louis, MO (PRWEB) August 15, 2013
Varsity Tutors, the leading private, in-home tutoring and test prep provider, is seeking 2,000 high-quality tutors to fill positions nationwide during the busy back-to-school season and beyond. As demand for academic support outside of traditional schooling and test prep has increased, the company has grown rapidly year-over-year, adding 800 tutors in 2012 in more than 25 major metropolitan areas, to serve K-12 and higher education students.
Founded in 2007 by CEO Chuck Cohn while an undergraduate, the college-based start up quickly grew into a market leader. With the increased demand, Varsity Tutors plans to double in size, reaching 4,000 tutors total and adding new locations. The company provides an affordable, customized service in which students are expertly matched with the best professional tutors who are able to address their individual needs. Varsity Tutors offers tutoring services that address all levels of education and a wide range of subject areas and standardized exams. The company selects tutors based not only on their credentials, but also on how effectively they communicate challenging material.
Record numbers of students are attending college, betting on the payoff of higher salaries and employment rates that are associated with a degree. According to the NACAC 2012 State of College Admissions report, more students are applying to college and applying to more than one, while acceptance rates at four-year institutions have declined. With an increasingly competitive admissions process, particularly at very selective schools, and rising tuition costs, students and their families are seeking professional tutoring to ensure they achieve their full potential and get into their college of choice.
Additionally, a growing number of parents are turning to tutoring services to give their children more personalized, one-on-one support that they need to gain confidence in challenging subjects and excel in school while garnering critical skills for future academic and career success.
"The back-to-school season is typically our busiest time, but we're already understaffed as the number of requests for our services have poured in over the summer," said Cohn. "We're seeing significantly higher demand for tutoring in foreign languages, STEM subjects, and college entrance exams, including the ACT, SAT, MCAT, and GMAT. Our streamlined operations and focus on exceptional tutoring enables us to scale up quickly and provide superior service that helps students from all walks of life succeed."
Varsity Tutors is seeking tutors from diverse educational backgrounds, in various metropolitan areas, who can demonstrate expert-level knowledge, teaching proficiency and excellent communication skills, and who have a history of academic excellence. To apply to become a tutor, applicants should complete the company's online tutoring application.
About Varsity Tutors:
Varsity Tutors is a premier private academic tutoring and test prep provider designed to help students at all levels of education achieve academic excellence. Varsity Tutors delivers in-home, personalized, one-on-one instruction in any subject from STEM to the humanities and customized preparation for all standardized exams, including ISEE, SSAT, SAT, ACT and graduate exams such as the GRE, LSAT, MCAT and GMAT. Students from elementary to graduate school are expertly matched with an exceptional tutor who is best able to address their unique needs and goals. To ensure satisfaction and safety, only the highest caliber tutors are selected to join Varsity Tutors following a rigorous screening process. Varsity Tutors currently serves 25 cities nationwide and offers a variety of tutoring packages. Students and their families interested in learning more about Varsity Tutors should visit varsitytutors.com.
Media Contact:
Cathryn Sloane
Marketing Coordinator
Varsity Tutors LLC
http://www.varsitytutors.com
314.740.6075
press(at)varsitytutors(dot)com