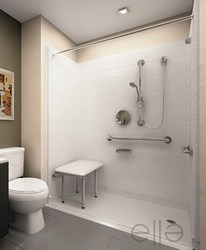 These are premium top of the line wheelchair accessible handicap shower systems.
New York, NY (PRWEB) August 15, 2013
Handicap bathtub and shower company, Aging Safely Baths announces they will now be offering the full line of Ella's wheelchair accessible shower systems. The company will now provide these unique shower products in addition to their premium hydrotherapy walk in tub line.
These low threshold showers are made in the U.S.A and come with industry leading warranties against any type of manufacturer defect. The fixtures and parts are the absolute top of the line as well and may offer shoppers additional confidence when looking for superior bathing appliances.
According to the company, clients can select from multi-piece shower systems in a box without accessories, or choose the full package which includes features like a padded seat, safety grab bars, thick vinyl curtain, hand held shower wand and a water stopper. The packages may be ideal for homeowners who are doing a "do it yourself" project or contractors who want to save time on ordering individual parts and pieces. In addition, wheelchair ramps are an option for customers who require a smooth transition from bathroom floor to shower pan.
Furthermore, plywood reinforced walls help provide extra support to the shower wall, making it non flimsy like some inferior products found on the market. Customers that are seeking out exceptional craftsmanship will appreciate the marine grade gel coat fiberglass which creates a smooth, durable beautiful finish that has enduring value.
These showers may be the best solution for commercial organizations such as nursing homes, senior communities, assisted living and businesses that cater to the disabled and the elderly. The wheelchair access showers and the senior bathtub products can also be installed into most residential locations. The sizes really vary, and come compact sized or extra-large and more spacious for plus sized bathers.
The company also offers a full line of walk in tub products that can come with or without the option of air hydrotherapy and whirlpool jetting. Unlike the handicap showers, the step in tubs allow bathers to enjoy a warm soak in the water. The tubs can also be equipped with luxury features such as colored mood lighting, aromatherapy and even heated seats.
Fall prevention is an entire industry these days. There are several companies that focus on products that are designed to help minimize falling. Having a dangerous fall in the bathroom is something everyone should be concerned with despite age, however it may especially be a concern among the elderly and disabled. The bathtub can be slippery, and once soap and water are introduced it may be a real potential safety hazard. While there's no perfect solution to bathroom safety, there are products that may help with stability and preventing falls. Aging Safely has trained walk in tub and handicapped shower experts that are available to answer questions and provide guidance to interested parties.
Contact Information:
Zach Wennstedt
Toll Free 1-888-779-BATH(2284)
info(at)agingsafelybaths(dot)com
http://www.agingsafelybaths.com