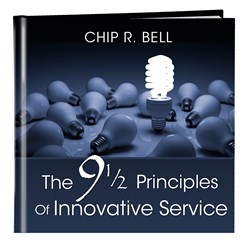 Innovative service starts long before the customer encounter and ends long afterward.
Lake Oconee, Georgia (PRWEB) August 20, 2013
Bestselling author Chip R. Bell believes we have lost the element of surprise in customer service, leaving today's customer bored. Upgrades to a nicer room or a first class airline seat are now computer driven not frontline employee created. What once enchanted the customer is today just assumed. As the value-added extras have gotten more expensive, the business world needs a new, yet inexpensive, approach to exceeding customer expectations.
In his latest book, "The 9 ½ Principles of Innovative Service" (released today by Simple Truths), Bell outlines practical principles and strategies for creating value-unique service designed to awe customers, not just wow them. Anecdotally-based and inspirational, the book will help frontline employees rekindle their spirit to delight.
"There has been a substantial increase and change in customer expectations. As customers, we are over stimulated and over-entertained. Customers quickly bore with plain vanilla anything; this book outlines how to deliver an unexpectedly positive experience," says Bell.
Drawing from his three decades as a consultant to some of the most innovative brands in the world —Ritz-Carlton Hotels, Cadillac, USAA, Harley-Davidson, Accenture, Chubb, Lockheed-Martin, Verizon Wireless, Universal Orlando—the author shares his eyewitness account of a drastic shift in customer expectations and what it takes today to astound them.
"Innovative service starts long before the customer encounter and ends long afterward," says Bell. "Value-added has been the service solution for many service exemplars—take what customers expect and add a little more. Customers today want unique; they gravitate to those organizations that make their hearts race and their spirits climb."
The author selected light-hearted titles for each principle in the book such as Cracker Jack, Big Boy, Purpling and Fly-Fishing to ensure readers remembered each principle's name. Of his name selections for principle titles, Bell shares, "We remember images long after we have forgotten words."
A highly sought-after keynote speaker, Chip Bell is the author such bestselling and award winning books as "Wired and Dangerous" (co-authored with John Patterson), "Take Their Breath Away" (also with John Patterson), "Managers as Mentors" (with Marshall Goldsmith) and "Managing Knock Your Socks Off Service" (with Ron Zemke). Chip was a highly decorated infantry unit commander in Vietnam with the elite 82nd Airborne. He has appeared live on CNBC, CNN, Fox Business Network, NPR and ABC. His work has been featured in Fortune, Business Week, Forbes, The Wall Street Journal, USA Today, Inc. Magazine, Entrepreneur Magazine and Fast Company.
"The 9 ½ Principles of Innovative Service" is now available on SimpleTruths.com as well as Amazon and 800CEORead. Readers can join Bell in launch week celebrations, August 19-23, 2013, with tweets, reviews, guest posts and more.