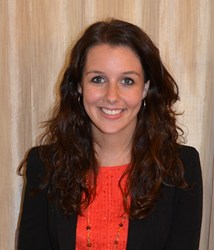 Rockville, MD (PRWEB) August 15, 2013
Van Eperen & Company (VE & Co.), http://www.veandco.com, an award-winning communications consulting firm in Rockville, Md., welcomes Regina Conley as its newest assistant account executive. Conley has experience in media relations, journalism, data analysis and writing.
"Regina brings a 'hot-off-the-press' perspective on the changes that are coming to the media and written communication," said Laura Van Eperen, CEO, Van Eperen & Company. "We are thrilled to have her support our clients and we are excited to welcome her to the team."
At VE & Co., Conley supports clients in the corporate and government sectors by providing writing and media relations support. Conley also has graphic design skills, which she uses to create dynamic visual projects that improve client communication and convey unforgettable stories.
Prior to joining the team at VE & Co., Conley interned at The Washington Examiner newspaper in Washington, D.C. She interviewed senators and congressmen and reported on legislative and administrative happenings in Congress and the White House. Her work has been linked to CNN, MSNBC, FOX News and other major media platforms. She also had the opportunity to travel to Venezuela to report on the presidency of Hugo Chavez during his election year in 2012. Conley also helped manage young professional networking and event planning for The Examiner's parent media company.
While a student at the Catholic University of America, Conley served as the editor-in-chief of the campus newspaper, The Tower. As editor, she managed a staff of more than 15 editors and staff writers, gathered news, assigned stories, sold advertising, maintained the paper's finances and designed the weekly print and web edition.
Conley graduated Summa Cum Laude from the Catholic University of America with a B.A. in History in May 2013.
About Van Eperen & Company
Van Eperen & Company is an award-winning strategic communications consulting firm. As a woman-owned MBE and MDOT-certified business, VE & Co. is authorized to provide professional services to the government through a GSA AIMS schedule. Founded in 2004 to deliver exceptional results to clients, the company holds steadfast to its commitment to exceeding client expectations, while keeping ethics and social responsibility at the forefront of every endeavor. For more information, call 301-836-1516 or visit http://www.veandco.com.