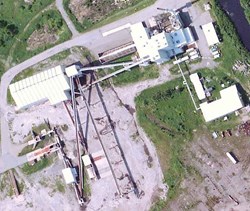 The Sherman Plant is complete and has been well maintained with power and rotation of the 24 MW Turbine for 2 hours every week.
(PRWEB) August 15, 2013
STACYVILLE, Maine – Niagara Worldwide Sherman Development LLC, was under contract until recently with final financing not coming through. The negotiated sale price was down to 4.5 million U.S. dollars. Niagara Worldwide presently owns the plant and needs to find a suitable buyer for the 21 MW Plant with 24 MW Turbine. This was the second biomass plant recently purchased by Niagara Worldwide. The former CHOREN Biomass Gasification Refinery in Germany is in negotiations with a confidential purchaser. The system at Sherman is in good condition with a weekly maintenance schedule that powers and rotates the 24 MW Turbine every week for two hours.
The plant is available for purchase, transfer and reinstallation. With the long lead time for setting up a "brand new" biomass plant of this size and configuration the former Boralex plant is ready for fast track re-use. The cost savings over setting up a 24 MW plant from scratch with new equipment is dramatic and will hopefully benefit someone looking to make biomass power a reality. Reinstallation of the 24 MW Sherman Biomass Power Generating Facility is projected to be a cost savings of 40% to 60% versus the installation of all new equipment.
Niagara Worldwide LLC; acquires, manages, markets and sells for final disposition idle industrial property and assets around the world on its own account and for the benefit of other international companies. Properties procured by Niagara Worldwide vary in size, scope and type, requiring very specific redevelopment efforts designed by our growth management team to suit the specific location and respective needs of the community and its specialized clients.