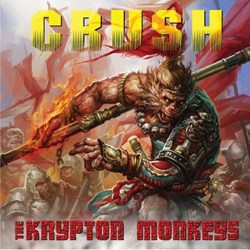 Cleveland, OH (PRWEB) August 15, 2013
The Krypton Monkeys album features ten tracks of melodic hard rock with a progressive spin. With a symphonic sound that puts meat on the bones of the songs, the Krypton Monkeys produce the kind of music that bands made 30 years ago and that are still getting airplay today.
The band members include lead guitarist/vocalist Ron Redfield, keyboardist/vocalist John McLaughlin, drummer Jim Dudash, and lead vocalist Bobby Huszar, all veteran players who knew each other from Cleveland's music scene.
The band came together after Redfield played on a couple of tracks for progressive rock keyboardist/producer Erik Norlander of Asia about four years ago. He was inspired to take another look at the songs he'd been writing for years "to see which songs I thought were worthy of doing something with but never got my attention."
Crush was produced by Redfield, who recorded the basic tracks at Cleveland's SUMA Recording. He then sent the recorded tracks to former Clevelander producer/engineer Mike Farona, of Middle C Music Studios in Nashville.
"We would communicate what I was looking for," says Redfield. "We'd start with one mix and keep going until we had all the tracks done." All the tracks feature Huszar's potent, heartfelt vocals, enhanced by lush harmonies provided by Redfield and McLaughlin, Dudash's propulsive drumming, McLaughlin's full-bodied keyboard textures, and Redfield's biting, forceful guitar leads.
"I've always been a Foreigner type of guy," says Redfield, connecting the Krypton Monkeys to their roots. "That's how I write. I would call it rock with a pop edge. I always make sure there are harmonies. I always make sure there's a hook in every song."
####
Track Listing
1.SELFISH LOVE 4:47
2.SHAME 3:26
3.SAVE ME 4:11
4.LAST REFRAIN 5:07
5.BREAKIN ALL THE RULES 5:30
6.DEFENDERS BAIN 4:42
7.EMPTY EYES 6:38
8.TEMPORARY LIFE 4:50
9.GARDEN OF THE MOON 2:23
10. ASTROLOGY PRELUDE 4:19