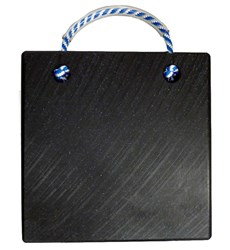 Travelers using Interstate Plastics' heavy-duty R.V. jack pads rest easy knowing their pads support any vehicle on the road.
Sacramento, CA (PRWEB) August 16, 2013
Interstate Plastics now utilizes UHMW technology found in industrial equipment outrigger pads, in their premiere line of hand-machined recreational vehicle jack pads manufactured right here in the United States. Fabricated UHMW thermoplastic construction with safety texturing prevents expensive damage to recreational vehicles and trailers by taking the load emitted from support jacks or outrigger feet, and dispersing it over a large unbreakable surface area. This creates a gripped footprint that dissipates excessive stress on both paved surfaces and soft soil while simultaneously eliminating pad bending. Interstate Plastics jack pads safely secure and support any RV.
Conventional base pad and utility block alternatives made from Polypropylene or cheaper plastics become risky business when holding up a motorhome, especially when family members lodge inside. Specifically designed for use with stack jacks, fifth wheel stabilizers, swing down stabilizers and awning arms to keep them from sinking into soft ground, travelers using Interstate Plastics' heavy-duty R.V. jack pads rest easy knowing their pads are unbreakable, gripping and handling compressive loads up to 2500 pounds per square inch; enough to support any vehicle on the road.
Unlike traditional alternatives, Interstate Plastics hand-machined jack pads do not splinter, rot over time, or hold moisture; and with advanced UHMW technology, Interstate Plastics jack pads are 15% lighter than the competition. They feature a built-in heavy grip handle and curved edges, making them easy and safe to carry and store. Interstate Plastics jack pads will never need replacement, and work under a broad temperature range, protecting recreational vehicles in any weather conditions from icy arctic blizzards to relentless desert heat.
Jack pads provided by Interstate Plastics feature UHMW technology that demonstrates unbreakable strength and grip needed for even and safe load distribution. This portable evenly distributed footprint spreads the smaller footprint of an R.V. jack over a larger surface area on both solid and soft ground, better than any alternative on the market. The standard color is black, measuring one square foot, however custom sizes are available through special order. Each and every custom sized jack pad is machined in the U.S. by trained material experts and fabricators.
Interstate Plastics operates throughout the U.S.A., working hand-in-hand with manufacturers to provide the expertise needed to assist engineers, designers, and fabricators across a myriad of industries. Since 1980, Interstate Plastics has earned a reputation for providing high quality plastics with excellent customer service and superior technical support. With eight branches nation-wide and an online sales and support team, Interstate Plastics is here to provide your solutions in plastic.