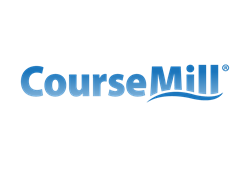 Now, CourseMill is even better than before with these new and improved updates for both administrators and learners.
Cincinnati (PRWEB) August 15, 2013
CourseMill® learning management system (LMS) releases version 6.8.2 with new improvements to make e-Learning tracking, reporting and management easier and more efficient. These new updates provide learners, instructors and administrators better opportunities for e-Learning success with CourseMill LMS.
"CourseMill has always been a powerful, easy-to use learning management system," said Peter Bray, Chief Marketing Officer. "Now, CourseMill is even better than before with these new and improved updates for both administrators and learners."
CourseMill LMS 6.8 SP2 includes new updates for course management, tracking and reporting:

Active Directory SSO (Single Sign On) – CourseMill LMS now supports SAML (Security Assertion Markup Language) environment and Web server integrated authentication.
Exempt Course Status – Gradebook now provides an Exempt status. This, in conjunction with the Gradebook comments, provides administrators a simple way to list and report on exempted students.
Re-enrollment Notice – When the system automatically re-enrolls a student in a course, the action is noted in the Gradebook and appears in the student's transcript.
Approval Process – Students who have been denied enrollment will receive an Approval Denial notification.
E-commerce Shopping Cart – A shopping cart image will appear at the bottom of the catalog to indicate when you are using an E-commerce implementation.
Greater Integration Capabilities – Easily integrate and access the new Lectora® Talent Management and Lectora® Mobile features directly from CourseMill.
To learn more about CourseMill and to see the full list of new features in CourseMill 6.8 SP2, please visit CourseMill 6.8 LMS.
For more information, visit Lectora.com or contact us at Info(at)Lectora(dot)com.
CourseMill LMS makes it easy to deliver, manage and track online training with its powerful, flexible and affordable learning management system. Users can choose from CourseMill Hosted or CourseMill Enterprise to find the best solution for their organization. CourseMill Hosted provides a hassle-free solution for the delivery of online training with no maintenance required. CourseMill Enterprise allows organizations maximum control over their training with full customization capabilities.
About Lectora®
Lectora® is the world's leading e-Learning software used by most Global 2000 companies in more than 125 countries and is offered in six languages. The Lectora line of e-Learning products includes Lectora Inspire, Lectora Online and Lectora Publisher. The makers of Lectora also produce Flypaper™, the leading interactive content creation platform, Snap! by Lectora® rapid e-Learning software and its sister product, Snap! Empower™ interactions builder. The Lectora family of e-Learning products also includes CourseMill® learning management system (LMS) and Lectora Talent Management. Lectora is headquartered in Cincinnati, Ohio, with offices in Boca Raton, Phoenix, Paris, London and Beijing. Lectora, Flypaper, CourseMill, Snap! by Lectora and Snap! Empower are trademarks of Trivantis® Corporation.
Website: Lectora.com
Phone: 877.929.0188
Facebook: Facebook.com/LectoraeLearning
Twitter: twitter.com/Lectora
Blog: Lectora.com/blog